27th April 2022
Sam tackles one more triathlon despite MND
Hospice supporter, triathlete, and patient Sam Perkins hopes to cross the finish line of the Nottingham Outlaw Triathlon on Sunday May 15 despite experiencing the debilitating effects of Motor Neurone Disease (MND).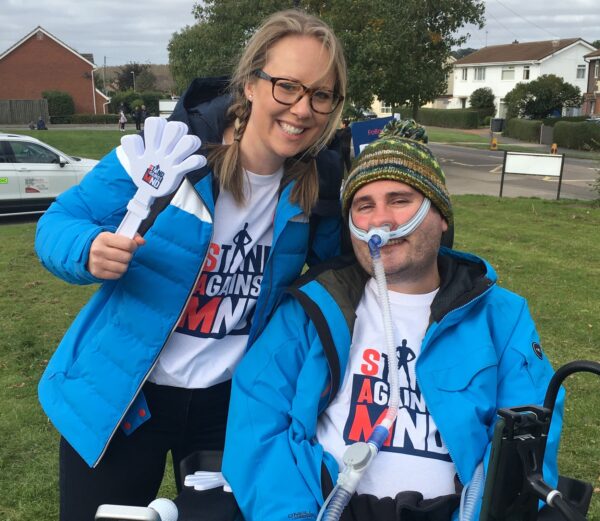 Before his diagnosis in 2019 – aged just 37 – Sam competed in 40 triathlons including two Ironman challenges. He is determined to take part in 'one more tri' and has opted for the race in his home village of East Leake as it's the first one he ever did, back in 2010.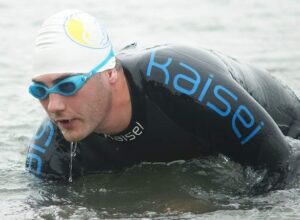 Despite being reliant on a ventilator and restricted to a wheelchair, Sam is undeterred, and a team of friends and family will push him through the 13.1 mile running leg of the race on a five-lap course around the rowing lake at the National Watersports Centre.
His wheelchair is being customised to support his six foot two frame, making sure Sam is comfortable, that the battery-powered ventilator is secure, and the chair is ergonomically adapted for the pusher.
Aims
Sam said: "My original aim was to tackle the event in the summer of 2020 when the plan was to be towed in a boat through the 1.2-mile swim and pushed through the 56 mile bike leg too. But the pandemic forced a delay. My condition progressed and for safety reasons we're now reduced to the run element.
"This race has special significance for me as not only was it my first triathlon, it's in the village where I grew up, and it's one I've introduced many other people to. I'm really looking forward to joining the 2,000 + other competitors on the day."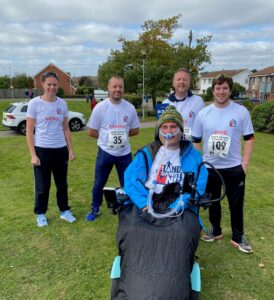 Sam is raising funds for MND research and hospice care through Stand Against MND, the charity he set up with his wife Emma. They've already raised £75,000 through a series of fundraising activities.
Sam, who comes to the hospice for massage and counselling, said: "The support we've received from staff and volunteers at Nottinghamshire Hospice has been phenomenal. Without it we wouldn't be able to continue enjoying life as much as we do.
"When you're in your 30s you don't expect to have to think about hospice care. I knew the hospice was here but had no idea what the care involves. To experience what it does is life changing. It's not just the care, it's the atmosphere, the people and the friendships.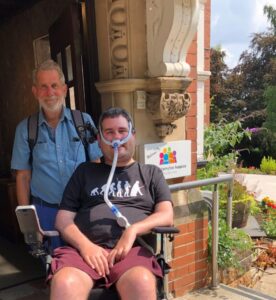 "Before I came to the hospice I was apprehensive, but when you come here you realise there are sick people who are enjoying themselves. What an amazing thing to do to help people who've been told there's no hope to enjoy the life they have left."
Sam, now 40, competed in his first triathlon when he was 28, having trained for three months in an effort to lose weight and get fitter.
Sam said: "In my 20s I was more interested in going to the pub. I was a smoker, weighed about 18 stone and wasn't particularly fit. But it was such a sense of achievement when I crossed that finish line. I just wanted to do it again and again, and by the end of the first year I'd completed seven or eight sprint triathlons and lost 5 ½stone."
Collective effort
Team SAM will have plenty of support throughout the day.  Sam's former clubmate Steph Cobb – who was 14 when Sam started taking part in triathlons –  will first take on the 1.2-mile swim.
Sam's step-father, Nick Rawling, who introduced him to the concept of triathlon over a pint on Christmas Eve in 2009, will tackle the 56-mile bike course on the same roads Sam used to train on when he could cycle. Sam said: "Nick's been an incredibly positive influence all the way through my triathlon journey, and at 67 he still has a six-pack!"
Support from former Forest players
Finally, the run will see Sam accompanied by step-brother Tom, who will help with a ventilator change if required, and carer Alex, who will cycle alongside with emergency equipment in a backpack. Three support runners on each lap will share pushing duties.
Also taking part are people who Sam inspired to give triathlon a go, two ex-Nottingham Forest players, Jack Hobbs and Jason Lee and some serious triathletes including Matt Julier who lost his dad to MND.
Sam added, "It will be an emotional event. I'm almost certain I will cry, and for a myriad of reasons: to do something that I thought had been unexpectedly taken away from me again, something that had given me so much self-worth, and something that I always look back on as one of my biggest achievements. It's going to be a big day."
If you're inspired by Sam's story and fancy taking on your own challenge to support Nottinghamshire Hospice, there are lots of ways to get involved. Find out more here.