26th November 2020
Sam's fundraising hits the £40K mark
Hospice supporter and patient Sam Perkins has raised £40K for Nottinghamshire Hospice and Motor Neurone Disease research.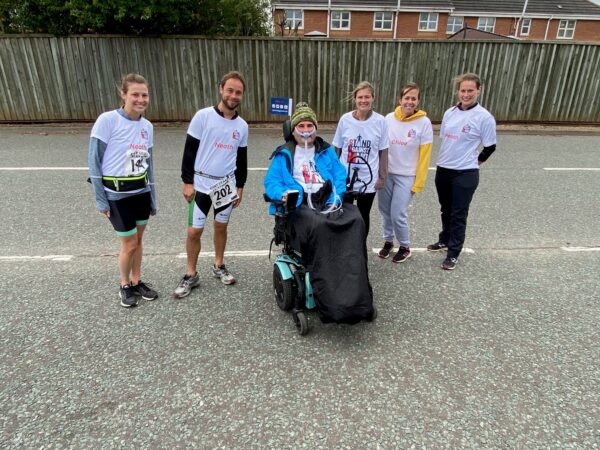 Sam, a triathlete who was diagnosed with Motor Neurone Disease in 2018, aged just 37, set up his own charity with his wife Emma to help others with Sam's condition. Proceeds will be split between the hospice and MND research. Earlier in the year Sam and Emma – pictured below –  donated £5,000 to the hospice.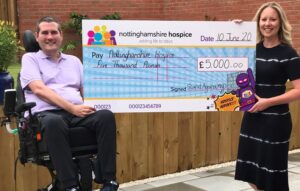 Although lockdown scuppered many of their plans, they have still managed to raise funds through a series of activities including sales of a children's book featuring Sam – which has raised more than £1k; encouraging friends and supporters to take part in the East Leake Triathlon in the summer – which brought in £5K – and a Halloween virtual quiz.
Sam's friend James ran 40 km for his 40th birthday, and other supporters completed the virtual London Marathon. Another of Sam's friends, who runs a micro-brewery, has produced a special beer called Good Deed Ale – sales of which have generated £800 for the charity so far.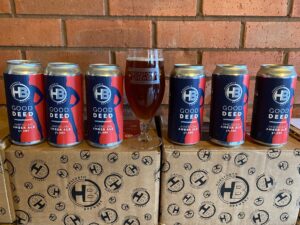 Sam said: "This year has been tough because a lot of our plans had to be scrapped due to Coronavirus restrictions. Emma and I had some trips away planned but these got cancelled as they ramped up the tiers, and now we're in a second lockdown.  We've been fundraising where we can, and we're really pleased to meet the £40K mark. It's frustrating not to be able to get out and do stuff, but I still get cared for really well at home."
Before lockdown, Sam came to the hospice once a week for counselling and massage therapy and took part in the hospice young adults group activities. Last year Young Adults Keyworker Clair Marshall arranged a trip in a JCB for him to fulfil a bucket list dream.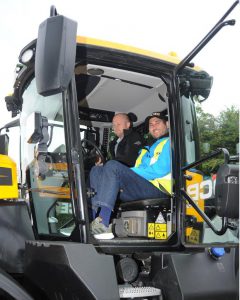 He now has counselling over the phone and regular visits at home from hospice Complementary Therapist Matt. He has also received some support from hospice nursing teams at night, and has taken part in some Zoom socials with other members of the young adults group.
Sam said: "I miss my visits to the hospice but It's good to still be able to receive counselling and massage, which is invaluable, and to catch up with the young adults group too. The hospice at home support we've had at night has been excellent as well," he added.
Gemma Taylor-Mahon, Fundraising Manager at Nottinghamshire Hospice, said: "Sam is such an inspiration. Lockdown must be especially tough for him and his family but he always remains so positive. We're so grateful for everything he's done to raise funds for the hospice."