2nd July 2018
Summer fair scoops a record £5k

Visitors turned out in their droves to yesterday's Summer Fair in the picturesque grounds of Nottinghamshire Hospice.
More than 400 people supported the event which raised a record £5,000, exceeding last year's total by nearly £2,000.
Visitors enjoyed cool pimms, prosecco and live music while soaking up the sun or sitting in the shade of the historic copper beech. There was something for everyone, from face painting and garden games to craft stalls, burgers and vegan snacks.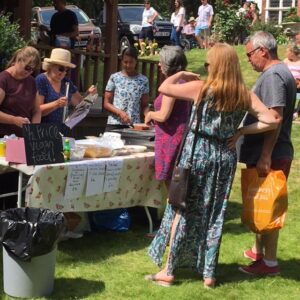 Penny Cooper, Head of Retail at Nottinghamshire Hospice, said: "The summer fair is growing in popularity. A lot of our fairs are frequented by our regular supporters but this one attracted other members of the public too. People came to enjoy the grounds and the atmosphere created by a live band, barbecue and bar.
"Later in the summer we have our dog show on 26th August, so get your pooches primed and preened for the occasion!"
All proceeds from the summer fair and other hospice events go towards providing palliative care and day therapy services for people with terminal conditions in their last year of life.
Our next event will be our Open Garden Day on Sunday 5 August when the hospice will throw open the gates to its historic premises for visitors to enjoy the delights of its beautiful garden. The event runs from 1pm to 4pm on Sunday 5 August at Nottinghamshire Hospice, 384 Woodborough Road, Nottingham, NG3 4JF. Entry £3 to adults, children free.