7th May 2020
Three generation family fundraiser nets £3.7K in memory of great grandma

A two-year-old completed 26 jigsaws and her cousins danced all day as three generations of a Lowdham family got behind the hospice's 2.6 challenge in memory of a much loved great-grandma.
Jane Streeter galvanised her whole family to devise fun and creative ways of supporting the campaign. Between them they've raised a phenomenal £3,700 to say thank you for the care the hospice gave to Jane's mum Nellie who died aged 90 in 2018.
Jane looked after her mother at home, but struggled to get the support she needed until the hospice stepped in with Hospice at Home support. Jane says: "The hospice helped us give our lovely Mum the end she deserved in her own home. We will never be able to express how much it meant to have their support and we wanted to thank them as a family by backing the campaign."
Jane has been walking 2.6 miles a day over 26 days, so far raising a whopping £3,516, with more expected.
The youngest family member to take part was two-year-old Nellie – named after her great grandma – who completed 26 jigsaws in a day. Nellie's jigsaw marathon, which was featured on BBC Radio Nottingham, included 13 Peppa Pig puzzles.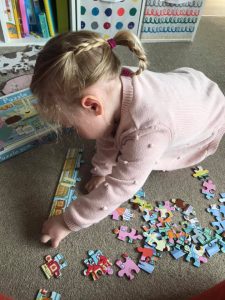 Her mum Jessica said: "Nellie is a big fan of jigsaws. We started at 9.30 am and kept going – with a couple of breaks – till 5.30 pm. She loved it and kept shouting 'doing puzzles for Great-Grandma!'"
Though too young to remember her great-grandma and namesake, little Nellie was born eight months before Nellie senior – who also loved jigsaws – died, so the two did meet.
Nellie's cousins Abigail and Emilia (aged six and three) did 26 Just Dance routines with their mum Catherine, and Jane and her husband have been walking 2.6 miles a day for 26 days to support the hospice, raising a whopping £3,516 with more to come.
Catherine said: "We had a really fun day doing the 26 dances, our six-year-old put us to shame as we were tired out and she just kept on going! We danced to songs from Moana, Frozen, Ghostbusters, Cotton Eyed Joe, Britney Spears and Queen so it was an eclectic mix! We made my husband Paul join in too and he got very involved with the costume changes
"The hospice staff were amazing looking after my grandma and the support it gave my mum was incredible. We're so pleased with the money raised."
Jane added: "Mum was a very brave and beautiful person. She had a difficult year after a fall and was so stoical, bearing her changed life with love and dignity. In her final days the carers and nurses from Nottinghamshire Hospice were just absolutely amazing and we thank them from the bottom of our hearts. I know Mum would have wanted us to support the hospice and would have encouraged us in what we are doing. And little Nellie is now a big sister to one month old baby Florence, named after my mum's mum  – so we have lovely family continuity!"
Roxie Hickling, Fundraiser at Nottinghamshire Hospice, said: "It's fantastic the way all three generations have got together to support the hospice. They've raised an amazing amount of money through the 2.6 challenge and we're truly grateful."
Nottinghamshire Hospice is anticipating a loss in funding of £150,000 due to its shops being closed and events being cancelled as a result of the Coronavirus pandemic. It recently launched its Forget Us Not appeal to address this shortfall. The 2.6 challenge – launched on the day of the postponed London Marathon – is one of a series of online events aimed at raising funds during lockdown. Find out more about the Forget Us Not appeal here