11th December 2018
Torch lit procession celebrates the lives of loved ones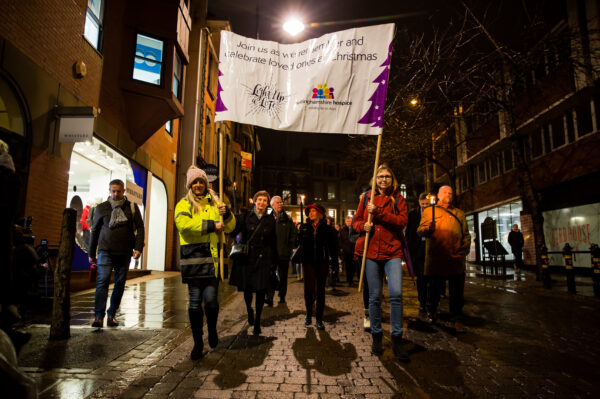 More than 100 people processed through the streets of Nottingham carrying lit torches in memory of loved ones at Nottinghamshire Hospice's 'Light up a Life' event on Wednesday.
The event began with a memorial service at St Mary's Church in Nottingham's Lace Market before the torch lit walk to watch the lighting of the hospice Tree of Lights at Castle Rock yard where people were invited to dedicate lights to their loved ones.
[contentblock id=98 img=gcb.png]

Sarah Dunning, Corporate Fundraiser at Nottinghamshire Hospice, says: "This is the first year we have held the procession and it was a beautiful and moving occasion. We're so grateful to all those who took part and supported the event. By dedicating a light on our tree and making a donation, they have given families across Nottinghamshire the greatest gift of all this Christmas, time together to make lasting memories. During the festive period we'll be providing care to people living with terminal illness across Nottinghamshire and emotional support to their families and carers, so that they can spend Christmas together."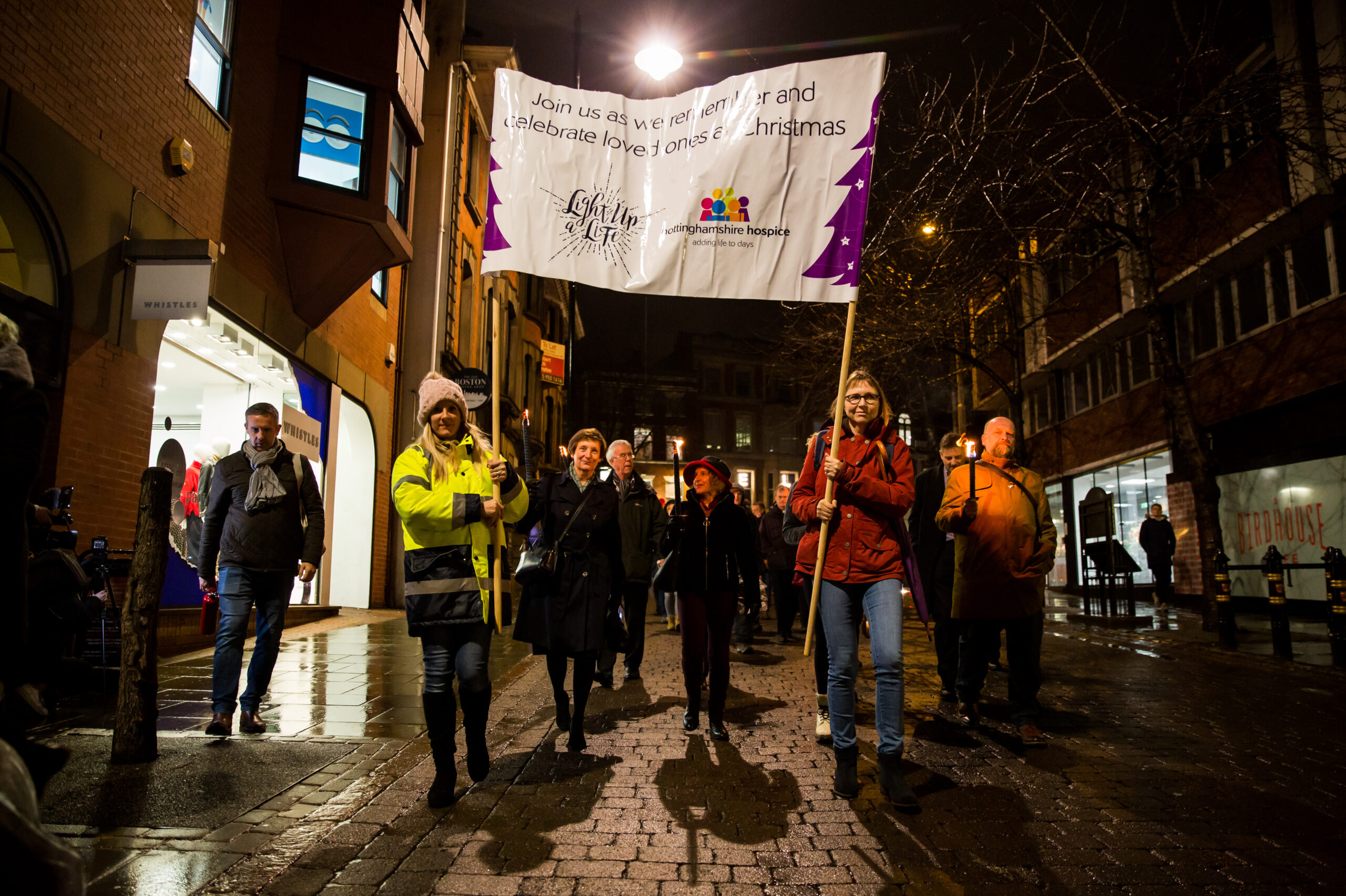 Jenny Baptist, whose partner Mary died in 2009, has supported Light up a Life for nine years.  Jenny, who read two poems at the event, says: "It has become a part of my Christmas tradition. It reminds me of Mary and members of my family, and is also an opportunity to donate to an invaluable charity.
"Nottinghamshire Hospice came into mine and Mary's lives at our darkest time, to help us both cope with the last days and hours of her life.
"On the night Mary died I made a promise that I would give something back to the hospice; to thank the charity for the 'light' at the end of the tunnel. The practical help, the unconditional love and support that the hospice provided was without doubt, amazing, and I will never forget it. Here were complete strangers coming into our home to help us get through this most challenging time of our lives."
Also at the event was Paul Brooks of Bank Farm, Stanton on the Wolds, who donated the 20-foot Norway Spruce Tree for the event. Paul, who was there with members of his family, donated the tree because Nottinghamshire Hospice cared for his late father John at the end of his life in 2015. John was diagnosed with pancreatic cancer and died just six weeks later.
Paul said: "When my father came home from hospital the hospice offered their services to help us. They provided overnight care for him at home which enabled us to get some rest and meant my father could be at home where he wanted to be.
"Caring for somebody at the end of their life as well as keeping the business going is like trying to keep plates spinning. You want to give the person the dignity and care they deserve but it's not easy. Nottinghamshire Hospice stepped in to help, so donating the tree is something we can do to say thank you."
The event is part of a wider Care at Christmas campaign aimed at raising £50,000 which will enable Nottinghamshire Hospice to provide compassionate care, warmth and festive spirit to five families every single day in December, including Christmas day.
There is still time to dedicate a light on our virtual tree at: https://visufund.co.uk/light-up-a-life-notts-hospice