8th December 2020
Tower shines purple in memory of Dave
A Carlton family have lit up the historic tower at Nottinghamshire Hospice tonight in memory of much-missed father and husband Dave Goode on what would have been his birthday.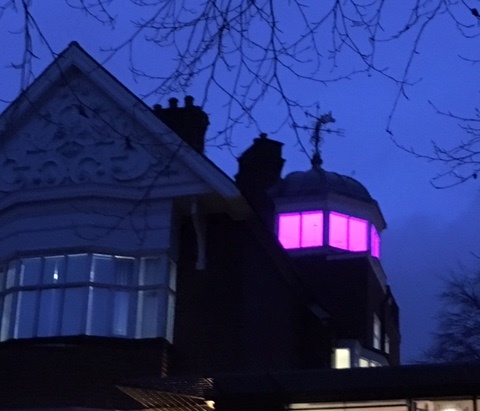 Dave's daughter Sarah and his wife Hilary have supported the hospice's annual 'Light up a Night' campaign which invites families and organisations to sponsor a night – turning the historic tower into a beacon that shines across the city to raise vital funds to help patients.
Dave, a former Nottingham City Transport bus driver, received a shock diagnosis of metastatic lung cancer just a week before he died, and Nottinghamshire Hospice stepped into provide Hospice at Home support for his last few nights.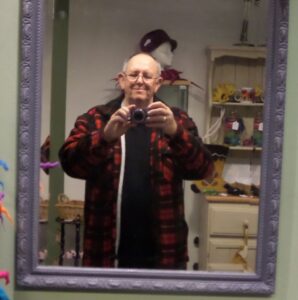 Sarah, who set up the Loughborough hand-made craft company Purple Pumpkin Patch, said: "Dad had been poorly for five weeks but the diagnosis came just a week before he died. It was such a shock. We didn't know how end of life care worked and had no idea what to do. The hospice was our lifeline. Having the hospice at home service enabled Dad to die at home where he wanted to be.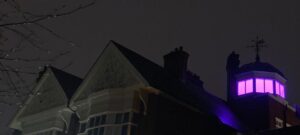 "We chose to light up the tower in purple because our family business, which Dad helped set up, is called Purple Pumpkin Patch. This will be the third time we've done this and Mum and I look forward to driving past and seeing the purple light.
"It is a special way of remembering Dad on his birthday as well as saying thank you to the hospice. We're proud that by doing this we are helping the hospice support other families who are caring for loved ones at the end of their lives."
Nottinghamshire Hospice Community Fundraiser Rebecca Taylor said: "We're honoured that Dave's family chose to light up the tower in his memory. Thank you so much to Sarah, Hilary and all at Purple Pumpkin Patch for supporting our appeal.
"The hospice building has a rich heritage which dates back to when it was one of Nottingham's finest residencies. Our tower is its crowning glory and when it's lit up it can be seen for miles around. It's wonderful that people are once again lighting up the tower to remember their loved one and spread some festive cheer during this most difficult of years.
"Although gatherings aren't possible due to the Coronavirus restrictions, lighting up the tower is something visual that we can still do in memory, and we're pleased that families can still have the opportunity to see it lit up."
Families and organisations are asked to donate £350 – the cost of providing a nurse to care for a patient overnight at home – to light up the tower in memory of a loved one.
If you'd like to sponsor a night in celebration of someone you love, find out more here.