10th June 2021
Village throws open its gardens to support Nottinghamshire Hospice
Residents of East Bridgford will open their gardens to the public on Sunday 11th July to raise funds for Nottinghamshire Hospice.

Visitors can tour 18 beautiful gardens, a 23-hive bee farm and a millennium wood while enjoying stunning views over the Trent Valley and Vale of Belvoir.
There will be refreshments, plant sales and activities for children en route, including a 'Find Gnorman' gnome-hunt competition.
This is the third time villagers have opened their gardens to support the hospice although last year's event was virtual due to the pandemic. Those wanting to tour the event virtually this year will still be able to do so from the comfort of their own homes.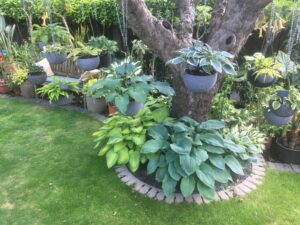 Organiser Nick Murphy said: "This is a fabulous opportunity to explore our beautiful village while raising money for local causes. We're so excited to be able to host the event live this year and it's amazing we've got so many gardens taking part.
"We're really looking forward to welcoming people on the day and we hope that those who can't be with us in person will take part virtually as they did last year."
Alec Hampson chose to support the hospice in 2019 after his father received end of life care. Alec said: "Hospices offer a fantastic service and I'm all too aware of their need for funding."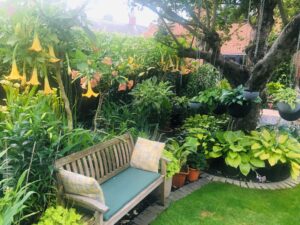 Alec's own garden contains a fabulous array of big, bold flowering plants including 12-foot brugmansias, multiple lilies and around 200 hostas. His front garden boasts exotic plants including palm trees, yuccas and bamboo. There's also a 130-year old apple tree which still produces a fine crop of fruit each year.
Alec said: "The event brings people together. You meet people you wouldn't ordinarily come across which leads to lots of smiles when you're out and about."
Proceeds from the day will be shared between Nottinghamshire Hospice and village projects. Over the last two years the village has raised £2,000 to help patients. Last year's virtual event attracted viewers from across the world.
The event runs from 12:30 – 5:30 pm. Tickets are £5 and include entry to all gardens. Children go free. Visitors can pay at any participating garden where they will receive a map, programme and entry sticker. For more details go to the East Bridgford Open Gardens website  email ebogardens@gmail.com or telephone: 07534 075718