9th May 2023
Young family helped by Hospice in Your Home care
Kestas Jonys was just 29 when he was diagnosed with cirrhosis of the liver two years ago.
Earlier this year he became more poorly, so Nottinghamshire Hospice stepped in to help Kestas and his family at their Radford home.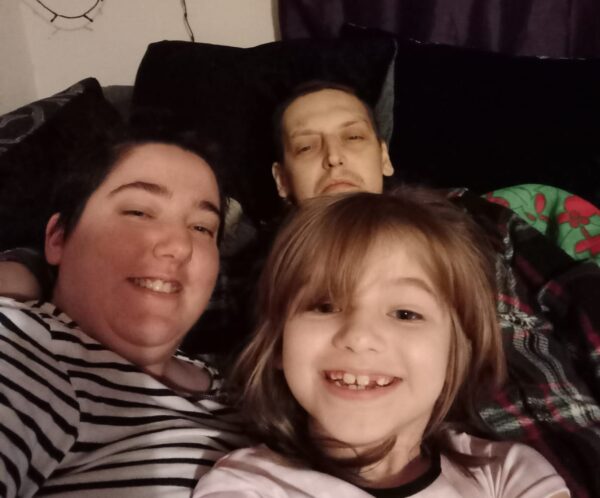 Here at Nottinghamshire Hospice we bring end of life care to those that need it, offering support in their homes.
Recently our care teams were visiting a local family who needed our help. We visited Kestas twice a day to provide care, whilst also supporting his partner Hannah (33) and their seven-year-old daughter Isabella.
"I started to worry"
Hannah said: "The palliative care nurses put me in touch with Nottinghamshire Hospice and it's been so helpful.
"Kestas started to lose his balance and had a fall when he was out where he cut his head. Because his liver has failed his blood wasn't clotting so it was dangerous if this happens. I started to worry about leaving him."
Support for the whole family
She adds: "The carers from the hospice took a weight off my shoulders. It allowed me to go out to collect Isabella from school. They didn't just look after Kestas as the patient, they also supported the whole family."
Hannah was a full time carer for Kestas and found it hard, particularly as she has epilepsy herself and relies on medication. Isabella also struggled with her dad being poorly.
A "close-knit" relationship
Hannah finds knitting helps relieve the stress of her situation. She knits scarves, hats and teddy-bears for friends and family, and recently has started making dog coats and even a jumper for a cat from South Africa which feels the cold! Her next project is a snood for Isabella.
Hannah and Kestas had been together ten years. They met in the New Foresters pub in Nottingham when she challenged him to a game of pool. "I won, but he got me, so I guess I was the prize!"
Kestas passed away at home in February.
---
Nottinghamshire Hospice provides crucial palliative care at home for patients at the end of their lives and support for their loved ones. Find out more about our Hospice in Your Home care.