26th April 2022
Young supporters tackle Lidl Mudder for Notts Hospice
Three young cousins took on a Lidl Mudder challenge in memory of their much-loved great grandad and nana who received hospice care at the end of their lives. They've smashed their fundraising target and raised £125 for Nottinghamshire Hospice.

Six-year-old Daisy, and her cousins Lexie (8) and Harry (7) battled through the mud in the mile-long course at Belvoir Castle at the weekend. The race is packed full of obstacles to give children aged 5-12 the chance to work as a team while getting muddy.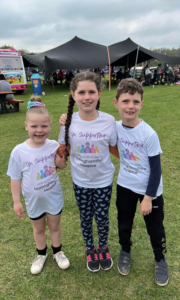 Lauren, mum to Lexie and Harry said: "It's been a hard couple of years for all three of them losing close family members in a short time. They all loved getting muddy to raise some money for those that took care of our loved ones."
Daisy's mum Rebecca said: "Daisy chose to run for the hospice because your staff looked after both my grandad in May 2020 and my mamma in Feb 2021 and they were amazing. Daisy's been running a mile at school every day to train and she absolutely loved taking part in the race! It was such a fun day."
Hospice care
The hospice stepped in to look after Rebecca's grandad in his Arnold home after he suffered a stroke. He died a week later, aged 82.
"It was sudden and unexpected. The people from the hospice came four times a day and one carer stayed all night. It was a big help to my grandma and to the whole family," said Rebecca.
"The hospice were also a massive help with my mamma who died of cancer. We were with her all the time and it was reassuring to have that extra pair of hands. When she was restless in the night they'd come and reposition her. And they liaised with the District Nurses to make sure she had what she needed.
"I knew the hospice was there but didn't realise it was 24/7. It's a brilliant service."
Paul Hawkins, Individual Giving Fundraiser at Nottinghamshire Hospice, said: "Taking on a challenge in memory of someone is a great way of honouring their memory. We're so impressed by what Daisy, Lexie and Harry have done to help the hospice."
If you'd like to take on a challenge or fundraise for Nottinghamshire Hospice, there are lots of ways to support us. Find out more here.