10th June 2020
Yvette's virtual running challenge nets £1K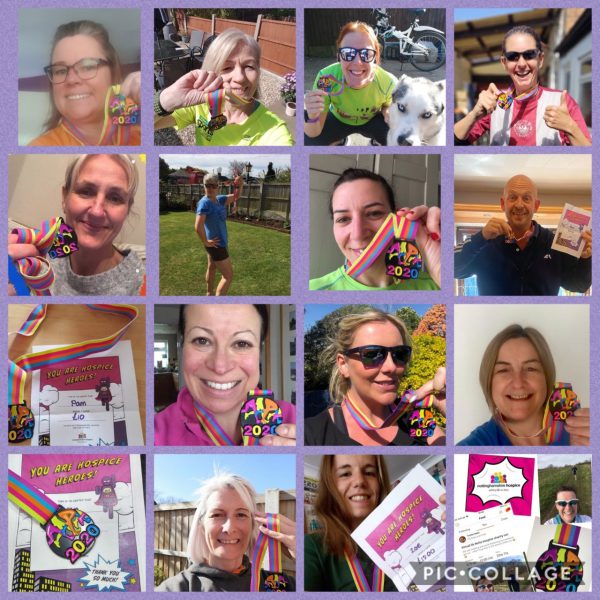 When Yvette Dean won a cherished place in the London Marathon she picked Nottinghamshire Hospice as her chosen charity because her father in law received care from the hospice.
Having won the place through her local running club, the Kimberley and District Striders, she'd been training hard for the race so was disappointed when it got cancelled due to lockdown.  Undaunted, she set up a virtual run and persuaded 30 other people to get involved.
"I'd arranged a 5k event at our local park Colliers Wood which was meant to happen at the end of March," Yvette explained. "We had lots of people signed up, so we were gutted when we had to cancel, especially as we already had the medals."
A fellow running buddy hit on the idea of going ahead with the race, virtually, so each runner did the distance individually in their local area, posted photos as evidence, then received their medals.
"It went brilliantly," said Yvette. "We've had some generous donations and raised over £1,000 for the hospice. It's heart-warming to know people care. I was really touched."
Yvette's father in law Mick, who had Alzheimer's and a blood disorder, came to Day Therapy at the hospice in 2018.
"We knew the end was near, but he enjoyed coming to Day Therapy and it also gave my mother in law a break. The hospice supported her as well after he had died," Yvette added. "When I got my London Marathon place it seemed an ideal opportunity to choose a charity that meant a lot to our family and would benefit from the money raised."
Yvette still plans to run the rescheduled London Marathon in October and hopes to raise further funds for the hospice.
Roxie Hickling, Fundraiser at Nottinghamshire Hospice, said: "We're really grateful to Yvette for what she's done to help the hospice. Getting all those people signed up to support the challenge is just amazing."
Nottinghamshire Hospice is facing a funding shortfall of £150,000 due to events being cancelled and its shops being closed during lockdown. It launched its Forget Us Not appeal to make up for some of the losses. Find out how you can support the appeal here