15th October 2018
Crowds head to the hospice to bid farewell to robins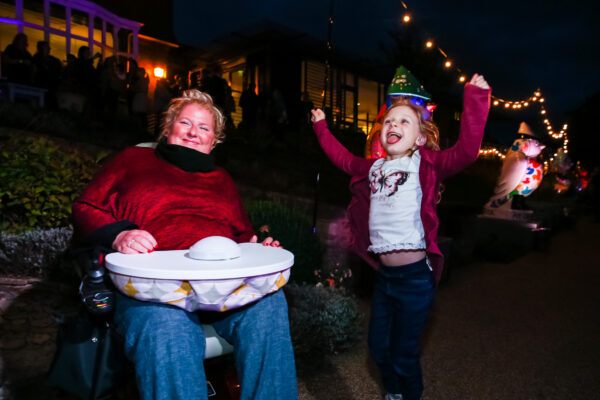 Thousands flocked to the Hoodwinked farewell event at Nottinghamshire Hospice over the weekend to say goodbye to the robins before they go to under the hammer on Thursday.
More than three thousand people came to view the 35 sculptures for one last time at the Farewell to the Flock event in the beautiful grounds of Fernleigh House, home to Nottinghamshire Hospice. The robins were illuminated at night creating a magical atmosphere.
Nottinghamshire Hospice patient Lene Pearce switched on the lights at a VIP preview on Thursday evening with her daughter Lexi. This was the latest in a series of activities that Lene, who has motor neurone disease, has been doing to create memories with her daughter, including a trip to Disneyland Paris for Lexi's birthday and a holiday in Australia.
Anita Harris, head of fundraising at Nottinghamshire Hospice said: "It was wonderful to see Lene and Lexi switch on the lights for such a special event. The whole weekend was a great success and I'd like to thank all the people who braved wind, rain and some sunshine to come out and support the hospice."
The event, which saw weather conditions ranging from balmy blue skies and summer temperatures to high winds and persistent rain,  raised more than £7,000 for Nottinghamshire Hospice.
Amanda Payne, (pictured) who visited with her two year old son Jonah, said: "We'd only seen the odd few in town, my son was really excited to see them all here especially the spaceship rocket robin. It's a beautiful setting and it's great to see all the robins together in one place."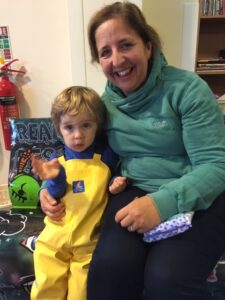 Helen Dove braved the rain on Sunday to visit the event with her sister, mother and their two families. Helen said: "The children were too little to do the whole trail so we didn't find them all in town. It's been really nice to see them all together here."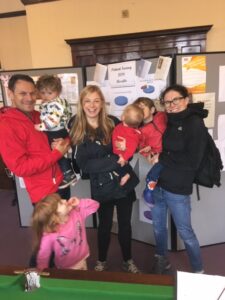 Among those volunteering at the event was 12-year-old Sophia Brook, whose mother Janine Brook's name is featured alongside well-known Nottingham names on the 'What's Notts' robin, sponsored by BBC Radio Nottingham. Janine, who died last year of secondary breast cancer, raised funds for her own cancer treatment and donated thousands to various cancer charities.
Sophia said: "My mum would have been proud to know her name was on a robin and it's great to see my mum's robin again here today. I've enjoyed volunteering at the event."
Next stop for the robins is the Grand Auction at St Mary's Church on Thursday with TV auctioneer Charles Hanson. Online bidding has already begun with a reserve price of £3,000 per robin. Proceeds will go to help patients at Nottinghamshire Hospice, charity partner for Hoodwinked.
To book tickets for the auction go to https://www.nottshospice.org/events/hoodwinked-the-auction/ or phone the ticket hotline on 0115 9555856
To bid for a robin online go to: https://bid.charleshanson.com/m/view-auctions/catalog/id/3