2nd November 2022
Frank fronts Light up a Life appeal in memory of beloved wife Joan
As Frank Shaw faces his first Christmas without his beloved wife Joan, he is fronting an appeal by Nottinghamshire Hospice to raise vital funds to help patients and their families throughout the festive season and beyond.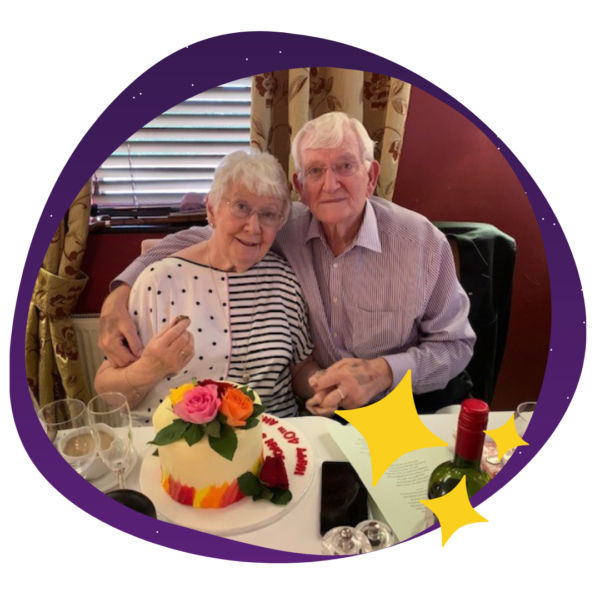 Nottinghamshire Hospice stepped in to provide care at home for Joan in the weeks before she died in February, enabling the devoted couple to spend her last few weeks together in their home.
Now Frank, who himself has an incurable illness and attends our GRACE unit, tells his story in a heartrending film produced as part of the hospice's Light up a Life appeal, launched today.
He will also switch on the lights on the hospice tree at our Light up a Life event at the on Sunday 11th December when people will come together to remember loved ones.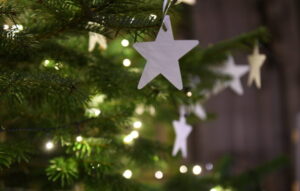 Crucial care at home
Frank said: "Without the hospice I don't know how I would have coped. When my wife came out of hospital we wouldn't have been able to manage without the hospice care. It enabled me to bring her home."
Joan had been treated successfully for Breast Cancer in 2016 but two years later developed another tumour and after undergoing chemotherapy, radiotherapy and two mastectomies, she learnt her illness couldn't be cured.
Frank and Joan were referred to Nottinghamshire Hospice and initially came to the GRACE unit together, until Joan became more poorly and was taken into hospital.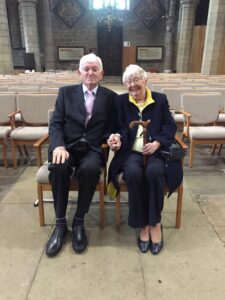 The couple, who had been together 42 years, had rarely spent time apart, so when Joan was taken into hospital Frank found it very hard being apart from her and wanted to bring her home. Nottinghamshire Hospice put together a package of care to enable this to happen.
"We had two carers come four times a day and on several occasions we had nurses who stayed all night when I was getting tired. It allowed me to get some rest," said Frank.
"The wonderful thing about these services is that they are free. Now the hospice needs to raise money to help other people in the situation we were in, and I'm happy to do what I can to help."
Appeal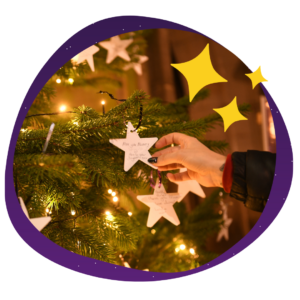 The Light up a Life appeal invites people to remember those they've lost by dedicating a light on the hospice tree, light up the hospice tower in memory of a loved one or purchase a special edition festive Forget-Me-Not pin badge.
"Light up a life is a wonderful idea, which will bring people together at that time of year when we remember loved ones particularly," said Frank
"Joan was the light of my life – she lit up my life. Now we need to light up other people's lives by supporting the Light up a Life appeal."
Care at Christmas
Nottinghamshire Hospice's care continues day and night throughout the year, with Christmas no exception. Throughout the festive season, our nursing teams will be out and about across the city and county caring for people in the last weeks, days and hours of their lives.
The Light up a Life appeal aims to raise vital funds to ensure that care continues.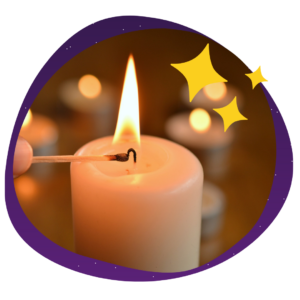 Paul Hawkins, Community Fundraiser at Nottinghamshire Hospice said: "Frank's story is a perfect illustration of how our services work together to help patients and their families. We're proud to have played a part in their story and pleased that we're able to continue supporting Frank in his grief.
"We're so grateful to Frank for sharing his story for our Light up a Life appeal which will raise vital funds to help our patients and their families during the festive season and beyond.
"There are so many pressures on patients and their carers, particularly with the cost of living increases, so it's all the more important that we are able to continue providing our care free of charge."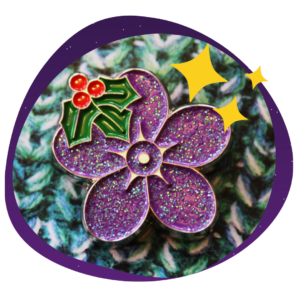 You can support the appeal by:
Taking part in the event at home with our Light up a Life at home pack (available to buy soon)

With special thanks to The A. W. Lymn Centenary Foundation for funding the video.