5th July 2023
Grief Appeal: Brenda's story
Brenda sought support from Nottinghamshire Hospice after her only sister died unexpectedly last year.

Help us support more people like Brenda, by donating to our Grief Appeal today

---
Brenda, 82, of Nuthall, Nottingham, was very close to her younger sister Barbara. They grew up together in Radford where their family ran a paper shop, and both worked in office jobs at the Players company in Nottingham when they left school.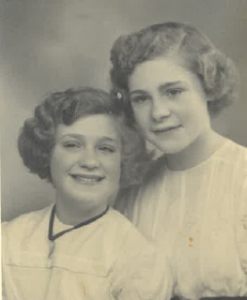 "Barbara lived a five-minute drive away and we were always there for each other," said Brenda.
"She was a true pal. It was such a shock when she died as I didn't know she was poorly."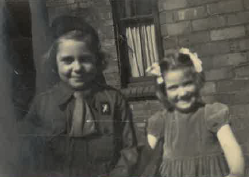 Brenda had a call from her niece saying Barbara was in hospital with a cancer diagnosis and sepsis. Within a few days Barbara had passed away.
Brenda experienced physical and emotional symptoms which her GP identified as grief.
"I couldn't cope. I didn't want to leave the house."
"I couldn't cope with it. I stopped going out. I didn't want to leave the house. I have arthritis and the pain grew worse," Brenda added.
"I went to my doctor and he told me I needed grief counselling and gave me two numbers to ring. One of them was the hospice, who answered straight away."
"A weight was lifted from my shoulders."
Brenda received 12 sessions of one-to-one emotional support, where she could talk through her feelings face to face.
"I was in a very dark place when I came into the hospice and it was wonderful. For me, speaking one-to-one with someone was brilliant. When I came out after the sessions I felt as though a weight had been lifted from my shoulders.
"It was a very good experience for me. You don't realise how much just talking to someone helps. And it's up to you how much you divulge. The time flew when I was in the sessions, I could have stayed for another half hour!"
Family support
Brenda's husband Michael brought her to the sessions at the hospice and enjoyed waiting in the garden while she had her sessions, where he chatted to the team of gardening volunteers.
Now Brenda is feeling much better and enjoying days out with her family which includes her own two children, three grandchildren and two great-grandchildren. She's also close to Barbara's family.
"If you're struggling, make that call!"
Brenda says she would advise anyone in her situation experiencing grief to get in touch with Nottinghamshire Hospice.
"My advice is make that call! I didn't realise I needed help, but it was a very good experience for me and I consider myself very lucky to have had so much support from the hospice team."
Now Brenda is considering volunteering at the hospice as a way of saying 'thank you' for the help she received.
Our Bereavement Services provide counselling and emotional support to people grieving the loss of a loved one. We need support to meet increased demand for our help. Support our Grief Appeal here!