6th July 2023
Grief Appeal: Doreen's story
When Doreen's father died she struggled to cope. She reached out to Nottinghamshire Hospice's Bereavement Services for help.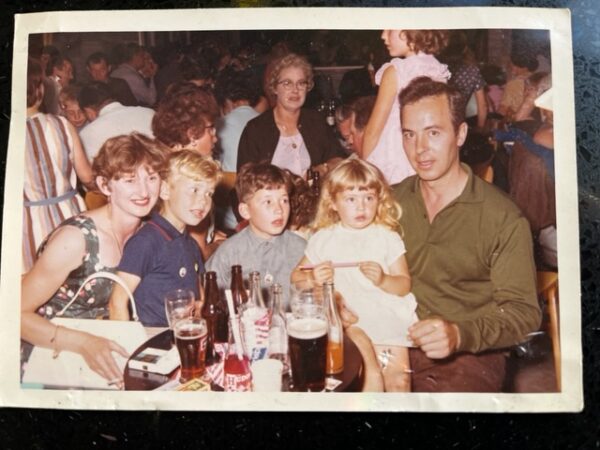 Help us support more people like Doreen, by donating to our Grief Appeal today

---
Doreen's father Brian died of lung cancer in January 2022 having been diagnosed the previous March. Brian, a former miner at Annesley pit, lived with Doreen for a few months before he died. She converted her living room to accommodate a bed for him.  
Doreen, from Aspley, was very close to her dad and was used to visiting him every day and cooking for him before he got poorly. She reduced her hours at work so she could help him more.   
After Brian – pictured above – was taken into hospital, Doreen learnt he was being moved to a ward and would be treated with antibiotics, which gave her false hope. She returned home to receive a call later to say he'd died. This was a real shock to Doreen as she struggled with the fact she couldn't be there when he died. 
Dark thoughts
"When Dad died, I couldn't cope. I had dark thoughts. I felt like I was losing my mind." said Doreen 
Support
Doreen learnt about the hospice through her healthcare provider, and she got in touch.  
"One of your emotional support volunteers phoned to introduce himself and I was offered options including video calls, one-to-one phone calls or face-to-face sessions. I chose phone as I was too emotional to drive to the hospice. 
"Grief is normal"
"He explained that I was going through grief, which is a natural process. He said 'I can't fix grief but talking to a trained person can help you focus on the positives.' 
Doreen had 12 sessions then was offered a few extra.
Talking helps
"Just talking makes you realise what you're going through is normal.  You rely on that call and it's very beneficial. It gave me the opportunity to open up more. It helped me focus on the help I gave to my dad not on the fact I wasn't there at the end.  
"You hold back when you're talking to your own family because you don't want to burden them or cause them distress. 
"Not a cure but it puts things in perspective."
 Doreen says she would recommend Nottinghamshire Hospice to others experiencing grief. 
"Bereavement Support isn't a cure but it really helps put things in perspective.
"My advice to anyone in my situation would be 100% do it. I'd 100% recommend Nottinghamshire Hospice bereavement services." 
Following in her dad's footsteps
To help process her grief, she and her husband visited Malta where her dad had been stationed in the Navy as a young lad.  
"I am trying to follow in my dad's footsteps. I loved my dad and he loved me." 
At Nottinghamshire Hospice we provide counselling and emotional support to people grieving the loss of a loved one. We need help to meet a growing demand for our services. Support our Grief Appeal here!