4th May 2021
Hospice launches Forget Us Not appeal
Nottinghamshire hospice has appealed for funds ahead of reopening.

As Nottinghamshire Hospice prepares to reopen its doors to patients it has launched its Forget Us Not appeal to raise funds to meet a significant rise in demand on its services.
After the pandemic hit last year the hospice closed its doors to visitors but extended its outreach services, doubling the number of referrals it responded to.
Now as the charity opens its new GRACE unit to deliver therapy and wellbeing services at the hospice, it seeks to raise core funds from donations and sales of personalised, handcrafted Forget Me Not flowers.
Tori Harrison, Individual Giving Fundraiser for Nottinghamshire Hospice, said: "During the last 12 months we've closed the hospice doors but we've been busier than ever providing care in patients' homes.
"Now as Covid restrictions ease and we get ready to welcome patients again to the hospice building, we are appealing to our local communities to help us meet this growing demand for our services.
"A gift in tribute to a loved one or even to memorialise our national loss will help us continue to be there for patients at the end of their lives and their families when they need it most."
Sammy's story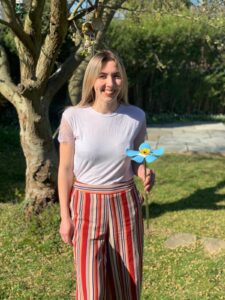 Sammy Tomlinson bought a flower in memory of her grandad Bruce who the hospice cared for at the end of his life.
Bruce, 75, of Gotham, was fast-tracked out of hospital during lockdown last year thanks to hospice intervention.
After a diagnosis of prostate cancer three years earlier – which was successfully treated at the time –  his health deteriorated in early 2020 and a scan revealed a growth on his lung.
He spent 25 days in Glenfield hospital before lockdown was announced last March, after which his family were not allowed to visit, so they were keen to get him home. The hospice stepped in with round-the-clock care so he could spend his final days at home.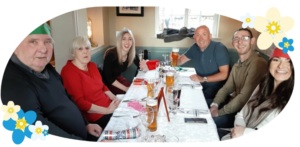 Sammy – pictured above with Bruce and other family members – said: "Thanks to the amazing work of the nurses and staff at Nottinghamshire Hospice, who offered my grandad 24-hour care at home, we were able to bring him home for the last few days of his life, which was very important to us all.
"The nurses that came to look after Grandad were so wonderful. The service is worth its weight in gold.
"The forget-me-not is a beautiful addition to my garden, a bright and comforting reminder of my grandad. It's very special to have something to remember the great work the hospice did to support my family and something to help me remember my grandad."
Marjorie's story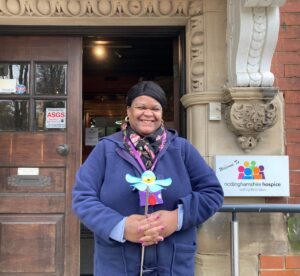 Marjorie Barnes bought a flower in memory of her mum who came to Day Therapy at the hospice before she passed away. Marjorie said: "Mum absolutely loved going to the hospice. The work they do there is amazing. Everyone's so warm and friendly.  Just walking in you get a warm feeling.
"I love my flower. Every time I look at it, it reminds me of Mum and the amazing care she received at the hospice."
Here's how you can support the appeal:
Make a donation
Set up a regular gift
Purchase a flower in memory of someone special
Host a family reunion fundraiser with a tribute fund in memory of a loved one