28th April 2021
Hospice prepares to reopen its doors to patients
Patients with terminal illness can once again access support at Nottinghamshire Hospice's Woodborough Road building as the charity prepares to launch its new GRACE unit to deliver Therapy and Wellbeing services next month.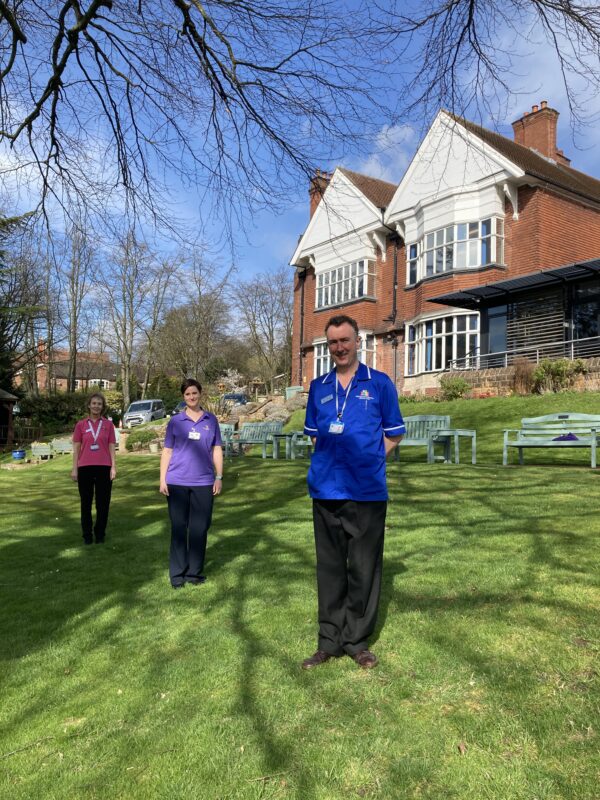 When the UK went into national lockdown last March, the hospice closed its Day Therapy unit and adapted all its services to be provided virtually or in patients' homes.
Now, as Covid restrictions lift, staff and volunteers are preparing to welcome patients once again to the building for a new, bespoke programme of therapy and wellbeing activities.
Palliative Care Practice Lead Kate Martin, pictured, said: "When people at the end of life are referred to us we'll invite them in to our GRACE unit to assess their needs and what they'd like to be able to achieve. We'll work with them to set some goals and design a programme for each individual.
"We'll offer timely, personalised support to meet their health, social, practical and emotional needs and to help them keep their independence for as long as possible and make the most of each day."
Each patient will be offered a programme of activities tailored to their individual needs which might include yoga, relaxation, gentle exercise, complementary therapies and creative activities alongside one-to-one physio and occupational therapy.
Elaine's story
Elaine Buckley, of Mapperley, started coming to Nottinghamshire Hospice before the pandemic hit and is keen to return when the building reopens.
Elaine is a keen guitarist whose cancer diagnosis caused her to lose use of her arm, meaning she could no longer play.
The hospice physiotherapist and massage therapist worked with her to regain strength and movement in her arm and a local music teacher volunteered to teach her ukulele. Mastering this skill gave her confidence to pick up her guitar again.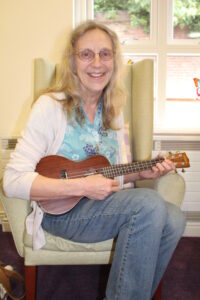 Elaine said: "Becoming a hospice patient was not something on my 'bucket list'!  Yet it has opened up a whole new world of life and fresh experiences for me. As soon as I entered the building itself, there was a sense of peace and belonging that immediately put me at ease.
"I wanted to play my guitar again, so a volunteer came in to teach me the ukulele to help strengthen my hand and arm.  I am now playing my guitar.  I wanted to learn to use my sewing machine, so a volunteer sat patiently alongside me, helping me to make clothes and household items for my new-born grandchild.
"Being told you are on 'end of life' care is like having a door shut in your face but the Hospice is like another door that presents itself to you in the darkness.  Through this door you find humility and an authority that qualifies you to talk about and do things you would never have thought possible."
Ongoing support
During lockdown, Elaine kept in touch through Zoom meetings but is keen to come back to the building for face-to-face support.
"Not having access to the Hospice during lockdown has been really hard.  The weekly Zoom coffee mornings have kept me in touch but nothing could replace actually coming to the hospice. I am so glad it is now able to reopen to patients like myself."
GRACE unit
The unit will initially open for one-to-one assessments with existing patients from May, and aims to start running activities for groups in the summer once COVID restrictions are lifted.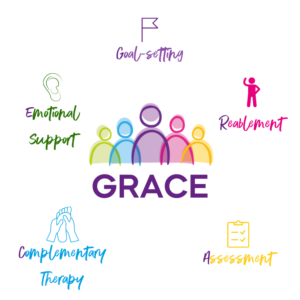 The new service follows the GRACE model of care which stands for:
Goal setting: working with patients to set meaningful goals around what is important to them.
Reablement: Maximising patients' potential to live as independently as possible, regain old skills and develop new ones.
Assessment: Discussing patient's situation and exploring ways the hospice can help
Complementary Therapy: Therapies like massage and acupuncture can help patients maintain movement, reduce pain and relax.
Emotional support: the hospice offers a safe space to explore feelings which may be isolating or overwhelming.
This model will complement the charity's Hospice in your Home services which provide round-the-clock care at home for patients at the end of their lives and support for their families.
For more information about GRACE or any of our services, call us on 0115 9621222
By giving and supporting our Forget us Not appeal today you'll enable people within your Nottinghamshire community access to this new, innovative service whilst continuing our vital, ongoing end of life care in people's homes.