31st August 2021
Introducing Vanessa Doel, Clinical Trustee
Vanessa signed up as a clinical trustee with Nottinghamshire Hospice because she wanted to do something tangible to help patients – spurred on by her own experience of serious illness.

A cancer diagnosis 12 years ago gave Vanessa – a GP for 25 years – a valuable insight into the patient experience. She went through a gruelling treatment regime of surgery, chemotherapy and radiotherapy which gave her extra empathy with patients.
Vanessa, a GP at Westdale Lane Surgery in Gedling, said: 'Having been through that personal journey I've seen first-hand what it's like to be diagnosed, go through treatment and feel out of control. You also see the wider impact of illness on family and how it affects loved ones around you.
'You can be the fittest person, but it doesn't make you immune to health problems. Covid has shown us how fragile we are as human beings.
'I feel truly blessed that I'm still here. It focuses your mind on what's important so you make every moment count.'
Vanessa was aware of the hospice for many years, and is passionate about the importance of holistic end of life care provided in patients' own homes.
'The more information we can give to people about end of life care at home, the better. Nobody wants to go into hospital. People want to be in their own home surroundings and to know that this is a truly viable option.
As well as her GP work, Vanessa has multiple other interests. She is a GP specialist adviser for the Care Quality Commission, taking part in inspection visits. She also works one afternoon a week at QMC as a clinical assistant in the Neurology department. She's recently completed a Masters in Leadership in Healthcare, and is an active member of her church community – St Mark's at Woodthorpe.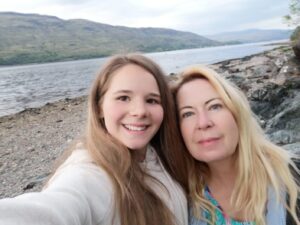 She has three children, two now at University, and regularly fosters dogs in need of a home. She also goes sailing on Saturdays with her teenage daughter Ariadne – pictured above.
Vanessa intends to take a very hands-on approach to her trustee role and plans to go out on shifts with hospice night support teams and spend a day with the GRACE unit to see first-hand how the hospice makes a difference to patients.
Nottinghamshire Hospice is currently seeking people with a background in nursing, palliative care or rehabilitation to act as clinical trustees.  If you think this could be you, find out more here.