16th April 2020
Life in lockdown: Joe's story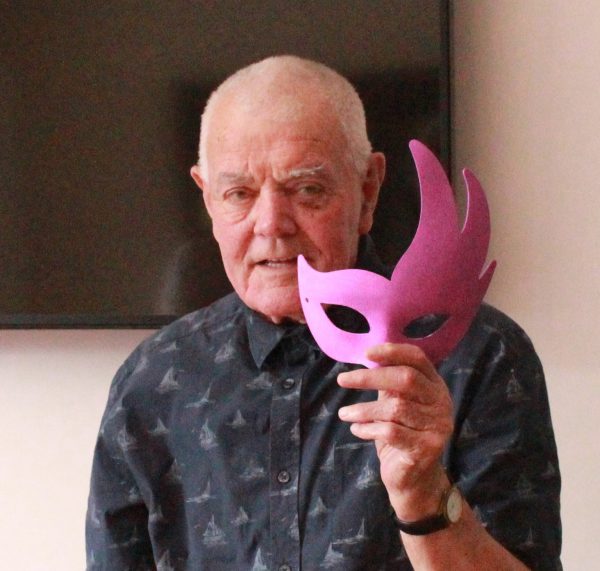 Members of Nottinghamshire Hospice's outreach team have been out and about during lockdown visiting patients who would normally come to Day Therapy at the hospice. We caught up with our patient Joe Hickey to find out what the visits mean to him. 
Joe, 87,  has lived alone in his Nottingham home since Edna, his wife of 53 years, died eight years ago. He has Type 2 Diabetes and is fitted with a pacemaker. He also has COPD so is in a vulnerable category and self isolating. His family, neighbours and window-cleaner have been collecting shopping for him.
Before the lockdown Joe – pictured above at the Laurence Henry Masterchef meal at the hospice last year – came to Day Therapy once a week where he took part in games, crafts and other activities. Now a member of the outreach team visits him once a week to check on his well-being and help him around the house.
Joe says: "I enjoy coming to Day Therapy at the hospice and I miss everybody. I'm on my own here and it's a bit like being in solitary confinement! I look forward to the visits from people at the hospice because they're the only people I see now.
Joe, who is very independent and sociable, misses being able to catch a bus  to town, meet friends and family, and go to church – all things he regularly did before lockdown, so the hospice outreach visits are proving a lifeline to him.
"They help out if there's anything I need doing, make me a cup of tea and stay for a chat. It's the chat that's the important thing. They're always very friendly and intelligent. I talk to my two cats but they don't answer back!" he says.
Joe grew up in County Carlow in Ireland and moved to Nottingham in 1956 where he had a varied and colourful career including a stint as a grave-digger, a road-builder and a trolley-bus conductor before working as a bus driver for 35 years. He met Edna at the Queens Ballroom in Nottingham where he used to go for Irish dancing on Friday and Saturday nights.
He has six children – four of which live in Nottingham – and 16 grandchildren. Because of the need to self-isolate he can't see them and when family members come to drop food off they leave it outside the front door. Joe does have a garden so is able to get outside but finds gardening too much due to his health conditions.
Annette Adams Day Therapy Service Manager at Nottinghamshire Hospice, says: "It's really important that we continue delivering our services to patients  like Joe who would otherwise have come to our Woodborough Road centre for Day Therapy. Our patients are particularly vulnerable so need to self-isolate to stay safe, but for those who live alone, this isolation can be a real strain emotionally. Having contact with our team can help them feel supported at a time when they can't see family and friends and their normal social activities aren't happening."
Day therapy outreach is just one of the ways in which the hospice is supporting patients during the Covid-19 pandemic. Hospice at Home and Hospice Night Support teams are continuing to provide end of life care for patients in their own homes, and counselling and bereavement support is being carried out by phone.
To discuss how we can help you or a loved one, get in touch by phoning our Care Coordinators on 0115 962 1222
Find out more about how we're delivering our services during the pandemic and how to support our Forget Us Not appeal here