10th December 2019
Light up a Life raises more than £8K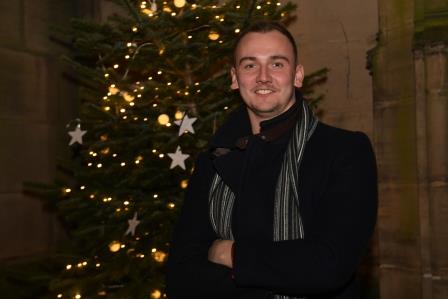 ---
---
Families from across Nottinghamshire gathered to remember loved ones at Nottinghamshire Hospice's Light up a Life events at the weekend and dedicated lights to their special someone in return for a donation to the hospice.
The events were part of the hospice's Care at Christmas campaign which has already raised more than £8,000, with more pledged. The money will raise vital funds for Nottinghamshire Hospice's Night Support service, launched last year.
Members of the public came to a ceremony at St Mary's Church in Nottingham followed by the lighting of the hospice Christmas tree. Nottingham chef Laurence Henry, who won Masterchef: The Professionals last year, switched on the lights.
There was a smaller event at the hospice itself, for families of former patients at the hospice.
Harry Alker, of West Bridgford, Nottingham, started supporting Light up a Life after his wife Melanie died in April 2016 from cancer. Nottinghamshire Hospice provided overnight Hospice at Home care for Melanie at the end of her life. Harry and his step-daughter Louise have attended every Light up a Life event since then.
Harry said "The first Christmas after Melanie died it was still very raw and a group of the family came to the Light up a Life event at the Castle. Since then, Louise and I have been to each one. We find them a poignant and moving occasion."
Gemma Taylor Mahon, fundraising manager at Nottinghamshire Hospice, said, ""By dedicating a light on our tree and making a donation it can help more people to spend Christmas at home with their families. During the festive period we'll be providing care to people living with terminal illness across Nottinghamshire and emotional support to their families and carers, so they can spend Christmas together.
"Thank you to all those who came to our events. The support for Light up a Life has been tremendous."
Anyone who was not able to join us at Light up a Life but would like to dedicate a light to a loved one can sponsor a light on Nottinghamshire Hospice's virtual tree: https://visufund.co.uk/light-up-a-life-nottingham-2019