12th April 2023
Meet Hollie, our new Communications and Marketing Manager
We're delighted to welcome Hollie Anderson to our team here at Nottinghamshire Hospice. Hollie recently joined as Comms and Marketing Manager.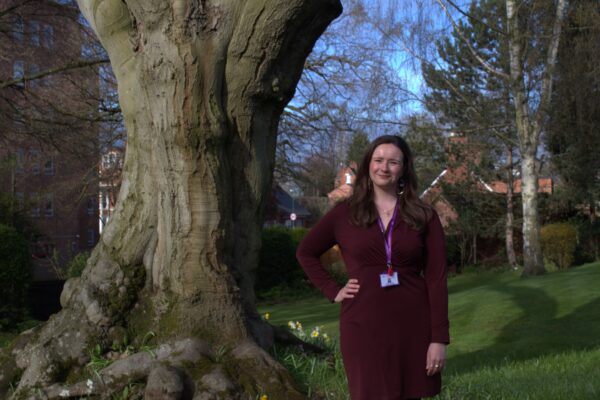 Hollie is a communications expert with a career spanning several years in the charity sector and government PR. She's excited to bring her skills and experience to a new role here at the hospice, where she heads up the Communications and Marketing team.
Talking to people
"People don't always understand what "comms" or "marketing" really entails… It's always funny asking my friends to try and explain what they think I do! But, when you boil it down, it's all about talking to people," Hollie explains.
"It's my job to make sure people hear about our care and how it can help them, and to let others know how they can support our fantastic work. Whether that's through social media, our website, the media, or posters and leaflets.
"I'm simplifying it quite a bit, but it's vital for running the hospice and serving the community!"
New to hospices
This will be Hollie's first time working in the care sector. She says: "I thought stepping into the world of end-of-life care would feel daunting, but that couldn't be further from the truth. What we do at the hospice is truly life-affirming.
"We help people during the most difficult and heart-breaking moments of their lives – offering them comfort and support. I can't think of a better organisation to work for."
A passion for the charity sector
Before starting at the hospice, Hollie has worked for environmental charity the Woodland Trust, local theatre Nottingham Playhouse, and for a government agency.
She adds: "There's something very special about working for a charity. It's like everyone knows you're a force for change and doing good every single day. It's incredibly rewarding, and I'm excited to work with the team at Nottinghamshire Hospice."
More about Hollie
Outside of work, Hollie enjoys cooking, DIY and outdoor adventures including beach combing. She loves the arts and regularly writes film reviews for local arts and culture magazine LeftLion.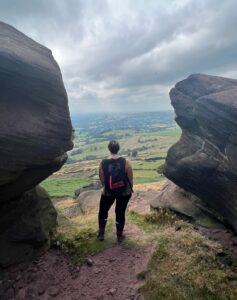 If you'd like to join our team here at Nottinghamshire Hospice, we're currently recruiting for a number of roles.