22nd March 2022
National Complementary Therapy Week: Simon's story
This week is National Complementary Therapy Week – when we celebrate the benefits of treatments like massage, acupuncture and reflexology and other natural therapies. Today we bring you Simon's story.

Simon was diagnosed with Stage Four cancer three years ago and given just months to live. He has a tumour in the frontal lobe of his brain and metastatic tumours in his spine and neck.
He decided against chemotherapy treatment and opted to manage his symptoms through a combination of diet, lifestyle changes and complementary therapy plus some palliative radiotherapy.
He comes to the hospice for regular acupuncture treatment with complementary therapist Matt McGuire – pictured below.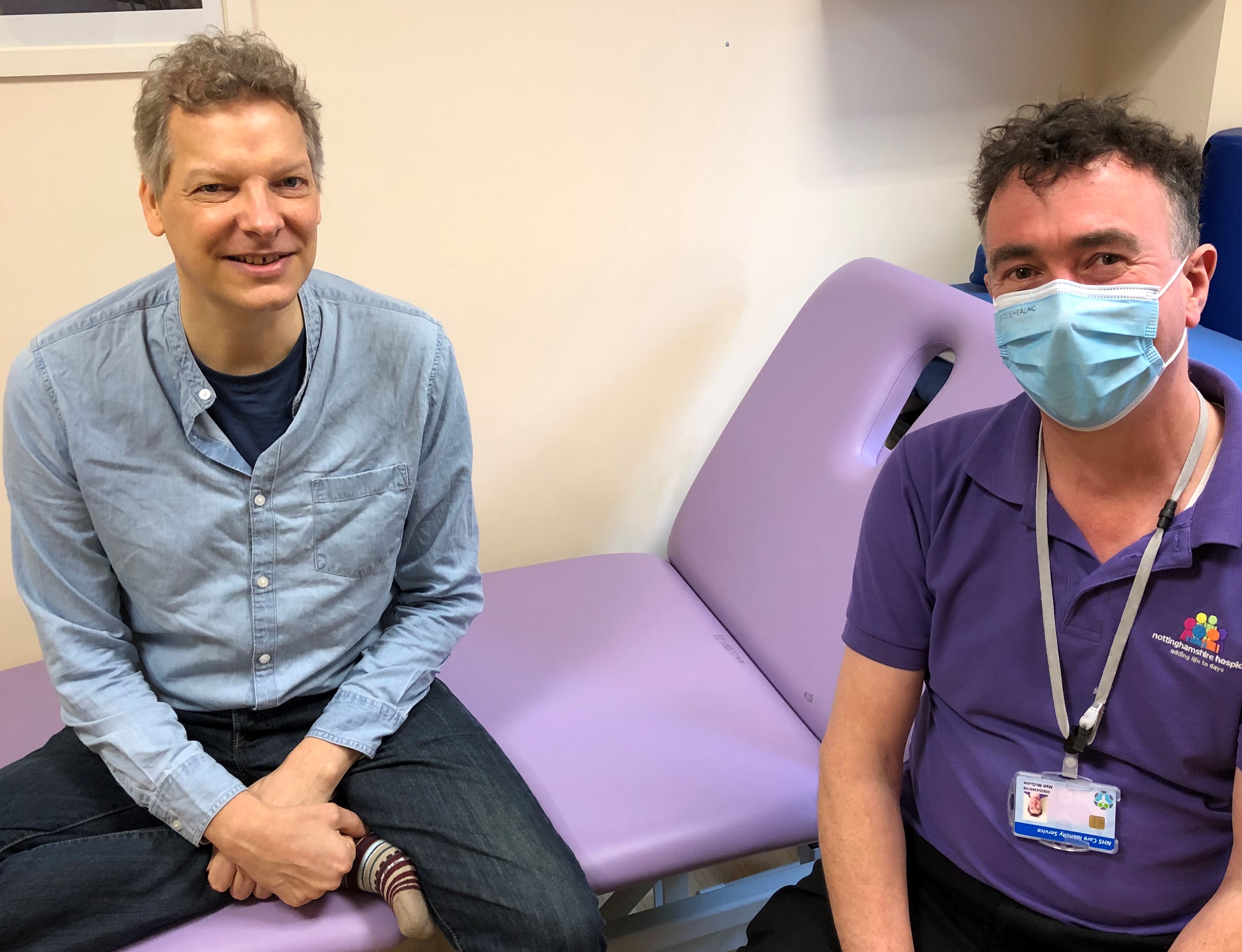 "Acupuncture is on the list of things I'm doing to improve my state," he said. "My community nurse recommended Matt as he has a good reputation as an acupuncturist.
"I knew the hospice was here but shied away from it because of the association with dying. I've been coming here regularly since just after Christmas and I find the treatment very effective.
"It reduces localised pain. It's just a few needles and you hardly feel them but it gives you get several days relief from symptoms."
Simon felt chemotherapy would have a slim chance of success but would impact heavily on his quality of life.
"I refused chemo and other interventionist treatment because in my situation it was very unlikely to help. Instead of fighting and being in aggression I see the cancer as being very useful to me in a lot of ways," he said.
Priorities
He says his illness has helped him re-evaluate priorities in life and focus on what is important to him.
A professional musician who set up a business teaching classical, rock, jazz and folk guitar, Simon feels his work took on too high a priority and since his diagnosis he's sought to make up for lost time in his relationship with his two sons.
"I was very driven. I worked all the time and didn't see my kids. Cancer made me sit down and have a think. Pain would push me to the point where tears would come, then I realised I wish I'd done better by my boys. They've forgiven me which is the most amazing thing."
Compassionate approach
Simon follows the principles of Gerson Therapy – which prescribes an organic vegetarian diet, supplements, juices and enemas to treat symptoms of cancer. He combines this with complementary therapies and a compassionate approach to his own illness and the illness of others.
"There are silly ideas around cancer – that you have to fight it and stay positive. There are times when you're not feeling positive and that needs expression. The idea that you've got to fight the disease isn't helpful. If you focus all your attention on fighting you forget to have compassion," he added.
"If you can have more compassion for yourself you can start to ease the pain. Accept the pain and don't fight it. I regard it as I'm living with cancer. I don't think my world's finished with me. On a good day I can go for a decent walk which is life enhancing."
At Nottinghamshire Hospice, we offer a range of complementary therapies including acupuncture, massage, and reflexology to help relieve symptoms and help patients relax. Find out more here.