26th April 2023
Our Wellbeing timetable has been expanded!
We're starting to expand our Wellbeing offer, to provide a more varied programme of activities – now open to patients five days a week.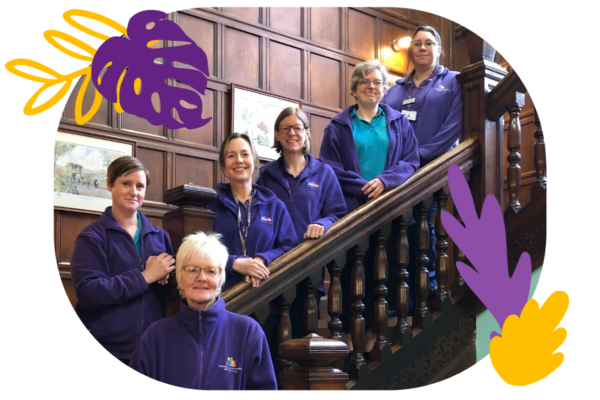 Our Wellbeing Team (formerly know as the GRACE Unit) have been working hard to produce a new timetable of Wellbeing activities.
Wellbeing at Nottinghamshire Hospice
Offered five days a week at our hospice on Woodborough Road, our Wellbeing offer is a programme of activities aimed at improving patients' quality of life after a terminal diagnosis. 
 Wellbeing therapies and activities help to: 
Maintain

movement to joints

 

Reduce pain

 

Offer a space for relaxation

 

Help patients and loved ones to understand and cope with feelings such as fear and anxiety.

 
Sessions on offer can include varied activities like tai chi, relaxation, mindfulness, complementary therapy, arts & crafts, baking and tabletop games. There'll also be carer support sessions, information workshops about specific conditions, welfare rights talks and a drop-in café.   
New patients will be invited to 'Welcome Wednesday' sessions to get to know the staff and learn about the services on offer. The team can also provide one-to-one sessions with a registered nurse or therapy staff.
"Helping Patients and carers face challenges"
Sarah Stanfield, Wellbeing Clinical Lead, said: "Our focus is on promoting wellbeing, widening access to our therapeutic activities and helping patients and carers face the challenges associated with a life-limiting condition. Our aim is to optimise quality of life.
"We've recently recruited extra staff and with our combined skills we can offer a wide range of activities and therapies tailored to individual needs. It's about having conversations that matter with patients and finding out what is important to them as individuals."
What our patients say
David, 82, was referred to the unit after a diagnosis of early Dementia last year. He takes part in crafts, word games, relaxation and has started having hot stone massage therapy.
He said: "It's wonderful here. Coming here is totally relaxing, it keeps my brain active and you can have a good old natter.
"I think it's brilliant that it's expanding. It means more people will benefit from coming here."
How to refer
If you or a loved one have received a life limiting diagnosis and think you'd benefit from our Wellbeing offer, you can call us on 0115 962 1222 to discuss your needs.