21st July 2020
Students gifts bring boost to hospice teams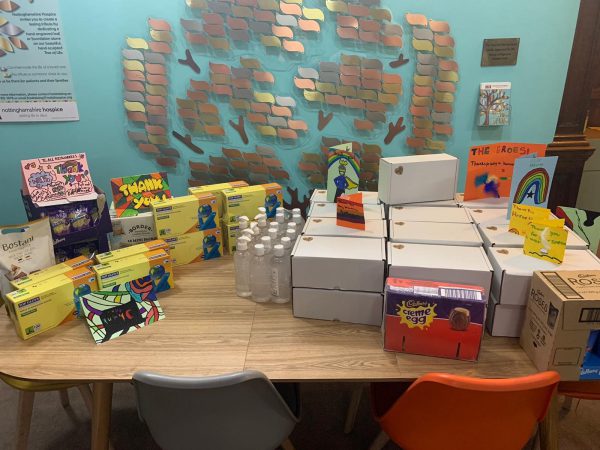 A group of Nottingham University students from student-led social enterprise Foodprint have donated much needed PPE plus care packages for nursing teams at Nottinghamshire Hospice.
With help from a £1,000 grant from the Ford Fund, the students put together a consignment including 1,000 gloves, 800 aprons, and 30 litres of hand sanitiser plus care packages for nurses containing goodies and gifts.
First year management student Omer Samuel – pictured right – who delivered the goods last week, said: "We chose to support you guys because the hospice is a good local cause, we know how important your work is in the community and we heard that you needed PPE. We also wanted to say thank you to the nursing teams and let them know they are valued.
"It's been a good project to work on while we were all stuck at home. It's been rewarding and it's given me real hands on experience of social enterprise which will be useful for my CV and my future career."
Omer, 19, who led the project and procured the items, included chocolate, face masks  (cosmetic ones not the surgical kind), and coconut hand cream in the packages for nurses as well as personal PPE, said: "Their hands must get very tired and dry with having to use all that hand sanitiser and wear gloves, so the coconut oil will help calm their skin. Likewise with the face masks – this was our little joke because when you think of masks in a Covid situation we think of surgical masks. These are facial masks to help people relax and rejuvenate after a long shift."
The team also included goodies for other hospice staff in the delivery as they didn't want them to feel left out, and engaged Nottingham schools Bluebell Hill and William Booth  to make thank you cards and banners for the hospice which are on display in reception.
Jo Polkey, Director of Care at Nottinghamshire Hospice, said: "It's such a boost to receive this fabulous delivery. Such a lot of thought has gone into what the students have put together for us. As well as much needed PPE they have included treats for our care team plus chocolate for the staff.
"Thank you so much Omer and everyone involved for your hard work, thoughtfulness and generosity."
The students are members of Enactus, a global network of business, academic and student leaders committed to creating a more sustainable world and Nottingham non-profit organsiation Foodprint which tackles food waste by selling surplus supermarket food and redistributing it to those in need.  The hospice project was one of a number of Covid-related activities that groups of students took on during lockdown.
Since the Coronavirus hit, Nottinghamshire Hospice has extended its services and now provides round the clock care palliative care for patients in their homes throughout Nottinghamshire plus support for families and carers. Find out more about our care services here.