2nd February 2022
World Cancer Day: Rose's story
World Cancer Day is aimed at raising awareness of cancer and those who live with it, and promoting early detection, prevention and effective treatment. Today we bring you Rose's story.

When Rose was diagnosed with Breast Cancer in 2015, the cancer had already spread. She went through a challenging treatment programme of chemotherapy, radiotherapy, and four operations including a mastectomy and reconstruction. The cancer returned in 2018 by which time she was told it was incurable.
After a fall last autumn, Rose was referred to Nottinghamshire Hospice for complementary therapy and physio, as well as aids for her mobility. She now takes part in other activities including relaxation, Tai Chi, and creative arts including pebble art.
"I didn't initially think this was something I needed," said Rose. "I was reluctant to accept that I needed support, but I was struggling.
"What surprised me was how much the massage and relaxation helped me. I've benefitted physically and mentally.
"I'd be unlikely to do a relaxation session on my own so being in a group is good. The arts activity helps distract me from my symptoms and I enjoy being creative."
Rose made the piece of pebble art pictured below for her cousin's anniversary.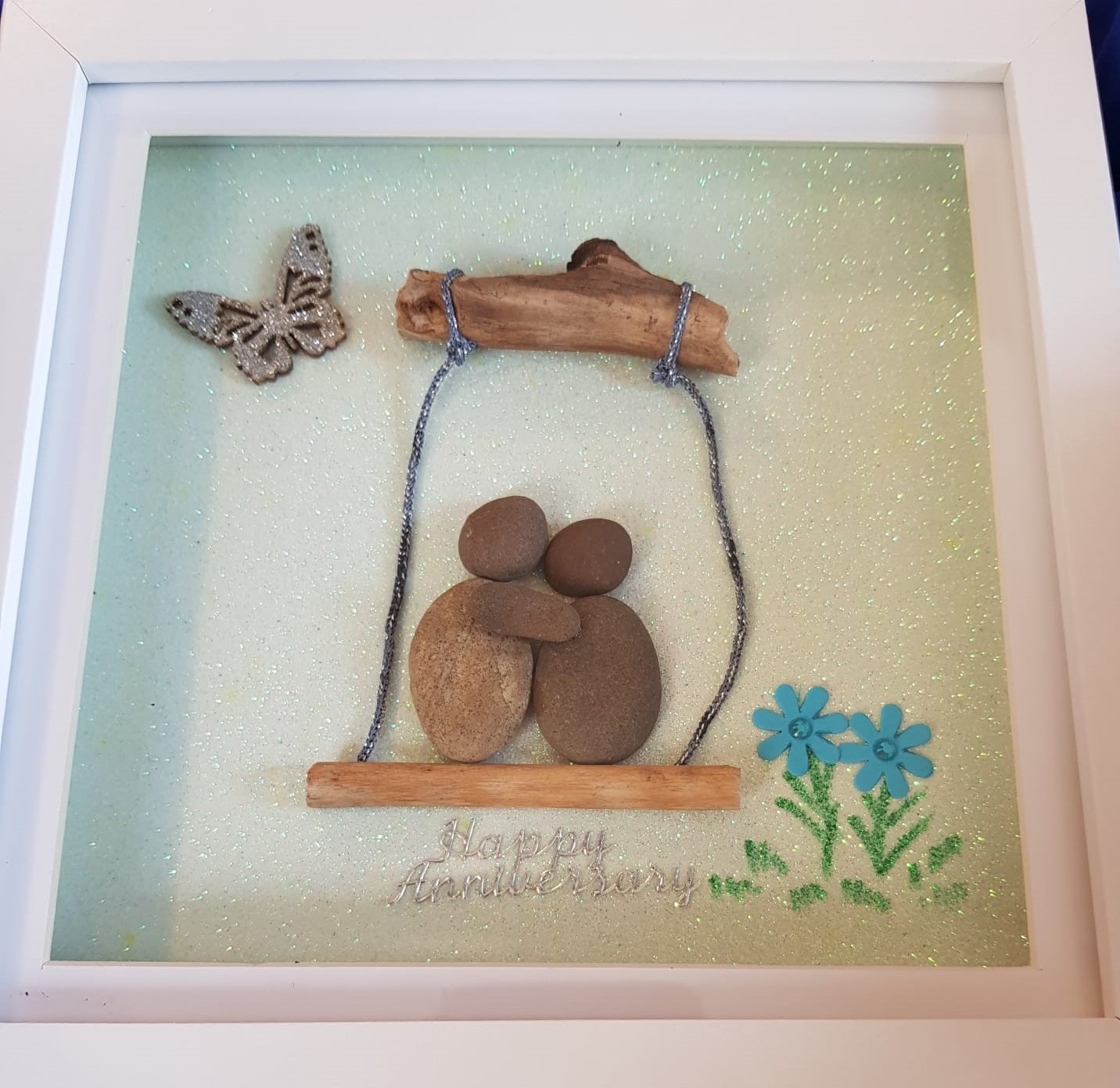 "I've been surprised at the benefits it has for my mental wellbeing. It's not just the therapies themselves, it's meeting other people, and chatting to the volunteers too. Volunteers have been really important. Being able to be picked up by a volunteer who's trained to help you is important.
"I've also been surprised at how easy self referral or carer referral is."
Family experiences of cancer
Rose experienced the devastating affects of cancer on family members at an early age. Her mother was diagnosed with late stage Breast Cancer when Rose was just 19, and passed away six months later. Later Rose's twin sister also died of cancer, and she also lost her younger sister to the illness.
Reducing health inequalities
Rose is passionate about reducing cancer health inequalities, and founded a charity called B'Me Against Cancer, which seeks to inform and support BME communities affected by cancer. The charity she founded has been instrumental in rolling out a prostate screening programme aimed at black men in Nottingham, which reached 300 men.
She also set up the support and campaign group Sistas against Cancer (SAC) with women she met on her cancer journey. It's a support and campaign group for women from Black Asian Minority and Ethnic communities affected by cancer. Among other things it has influenced positive change for BME women who experience hair loss through due to their treatment.
Raising awareness among communities
She's keen to raise awareness about hospice services – such as those offered by the GRACE unit – among communities who are currently under-represented in hospice care.
"Some people in BAME communities are less likely to be aware of support services available and less likely to identify with them," Rose added, explaining that there is still a lack of trust in healthcare services among minority communities, which has increased since the pandemic.
"Awareness of family history and secondary cancer is lacking across the UK especially among BME communities who can be less likely to be taken seriously when they go to the GP so less likely to get an early diagnosis," she added.
"I know the hospice is keen to reach more diverse communities. I've tried out the hospices services and I know they benefit me, so I'm happy to recommend Nottinghamshire Hospice to members of my community."
Our GRACE unit provides therapy and wellbeing services for patients and carers at our Woodborough Road centre. Find out more here.