22nd December 2022
Hospice care continues round-the-clock at Christmas
While people across Nottinghamshire are enjoying festive celebrations, nurses and healthcare assistants from Nottinghamshire Hospice will be caring for end-of-life patients in their homes across the city and county.

They'll be working round the clock all through the Christmas period, providing care for people in the last weeks, days and hours of their lives and supporting families through traumatic times.
Carmel's story
Among them will be Carmel Hutchcraft, a Hospice at Home nurse who is working overnight on Christmas Eve in a patient's home.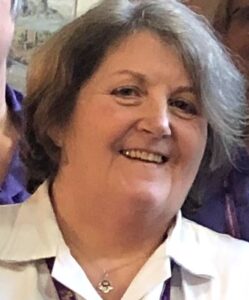 Carmel says: "Caring for someone who is dying is especially poignant during the festive season as it's supposed to be a time for celebration.
"Families usually try and make something of Christmas in a low-key way to make a sad memory as bearable as possible. They try to make the occasion memorable while being respectful of the person who is at the end of their life, looking for positive ways to honour the person."
'Privilege'
Carmel describes working one-to-one with patients in their own homes as a 'privilege' which allows her to give quality care and concentrate on the patient's needs as well as supporting the families.
"Patients usually feel safer in the familiarity of their own home with loved ones around them and it's easier to maintain dignity at home than it might be in a hospital setting," she added.
She plans to celebrate with her children and granddaughter on Boxing Day.
Sarah's story
Sarah Pinkstone, Lead Nurse for Community Services, is working a 12-hour shift on Christmas Eve with the Hospice Night Support team.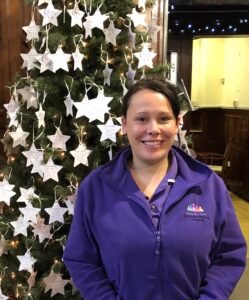 She will then catch up on sleep till around 11am before cooking Christmas dinner for her children aged five and 10.
Sarah says: "It's tiring working the night before Christmas when you've got children, but I give them a really big stocking to keep them entertained until I get up.
"I might be tired on Christmas day but at least I am surrounded by people. We have to remember that some people are alone and need help.
"It's really important that we keep the service running – particularly for patients who are on their own."
Care provided by nurses like Sarah and Carmel enables patients to stay at home with family around them in what is likely to be their last Christmas.
Brian's story
One family all too aware of the importance of this care are the family of Brian Cotton, 86, who has been receiving support from Nottinghamshire Hospice since coming out of hospital in May.
Brian, from Southwell, has had heart failure for a number of years but his health deteriorated earlier this year. The hospice provides overnight Hospice at Home care once or twice a week.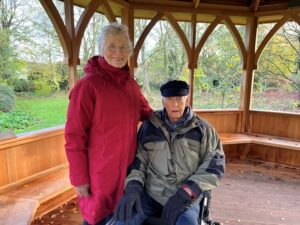 Brian lives with his wife, who has Primary Progressive Aphasia – a type of dementia. His three daughters, who all live some distance away, arrange a rota between them for staying at their parents' home.
Daughter Rebecca, who lives in Dumfries in Scotland, said: "It helps us massively to have overnight hospice at home care.
"It gives everyone a proper night's sleep. It also provides moral support for us."
"Last night I sat up with the nurse who came and she talked to me about what to expect as his condition deteriorates. I found this really reassuring, especially as I have never been in this position before.
"I really appreciate the hospice support. It's helping us to keep Dad at home which is absolutely his wish. It's allowing him to stay with my mum at the end of his life which is important as they've been married for 66 years."
Nottinghamshire Hospice provides crucial end-of-life for patients in their own homes across Nottinghamshire. Find out more about the services here