22nd December 2020
Hospice care continues round-the-clock at Christmas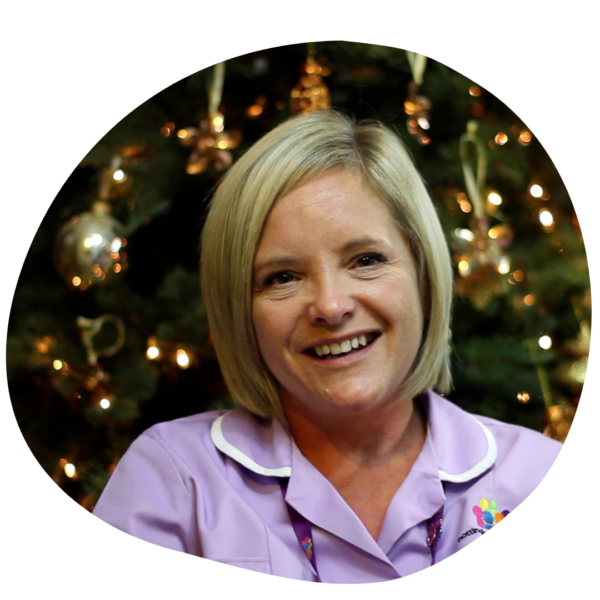 ---
---
Nurses and healthcare assistants from Nottinghamshire Hospice will be caring for terminally ill patients in their homes across the city and county all through the Christmas period.
The round-the-clock Hospice in your Home services will continue providing care for people in the last weeks, days and hours of their lives and supporting families through traumatic times.
Among them will be Healthcare Assistant Leanne Porter, pictured below, who joined the hospice in November 2019 and worked nights all through the festive period last year.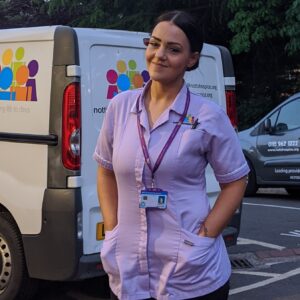 Leanne, who has four children, and lost her own mother two years ago just before Christmas, says caring for terminally ill people at this time of year is especially poignant.
"It's really tough for families when someone is dying at any time of year but especially at Christmas as there are so many other pressures. That's why it's so important that we are there, not just for the patient, but for the families and carers too. We are there to care to support the whole family – even if they just want to talk."
Leanne feels that her own experience gives her valuable insight into how patients' families are feeling.
"My mum died just before Christmas and it's the worst thing ever. I had my children to think about and you get pulled in different directions. Having been there yourself you understand the emotions families are going through. It helps in my role."
Leanne says the pandemic has made the job more challenging.
"When you're wearing a mask it's harder for patients to hear what you say. This can be especially difficult if patients have dementia. All they can do is read your eyes. But there are ways round everything and as a team we've managed to conquer it all."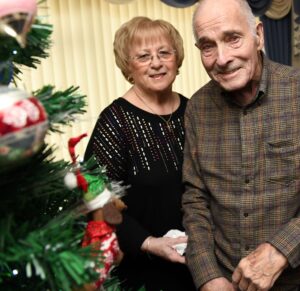 One family who understand only too well the importance of care at Christmas is the family of Roy Jones from Mansfield. Last Christmas Nottinghamshire Hospice provided care to enable Roy to stay home with his wife Sheila and other family members around him.
Sheila and Roy met when they were 17 and had been married for 62 years, but after Roy's cancer diagnosis in June 2019 they knew that last Christmas would be their final one together. Roy was at home all through the festive period and died in the new year, aged 84.
Sheila said: "I thank the hospice from the bottom of my heart. I'm so grateful for what you did for us. You looked after him so very, very well. Christmas will be very different this year without Roy. I still feel the warmth of him."
Care expanded since Covid-19
Caring for patients in their own homes has become even more crucial during the Coronavirus pandemic. It helps families who would otherwise not be able to visit their loved ones in hospital, and it keeps hospital beds free for Covid patients.
Since the pandemic took hold, Nottinghamshire Hospice has extended its services and now provides 24-hour care in patients' homes across the city and county.
The hospice usually supports around 1000 patients each year, however during the first six months of 2020 it received 900 referrals and expects to double its usual amount by the end of the year. During the first lockdown alone the hospice supported around 750 patients.