7th January 2021
2020 – a look back on the year that was
2020 will go down in the history books as a year that none of us will forget.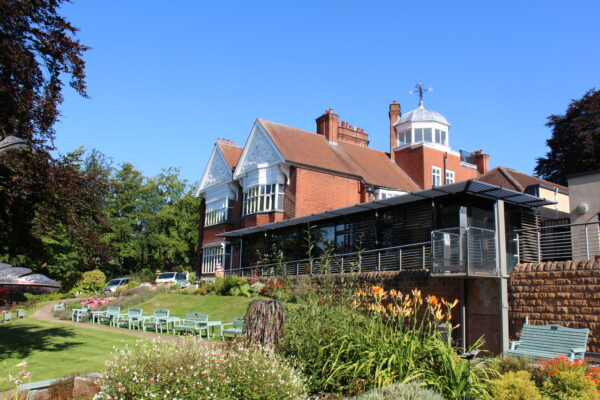 It's been a tough year for all of us, but thanks to the unwavering support of our wonderful communities, we at Nottinghamshire Hospice have weathered the storm, extended our services and introduced new ones to provide 24-hour, round-the-clock care in patients homes across the city and county.
We're tremendously grateful to all those who have supported us through the year, from those who've responded to our appeals, supported our shops, and shared our social media posts, to media who've given us great coverage throughout the year, and grants and trusts who've awarded crucial funds help us continue our services, plus our wonderful staff and volunteers of course.
As we enter 2021 – our year of hope – we thought we'd take a quick look back on some of the moments, big and small, that happened in the hospice world last year. Here are just a few of our highlights from our year that was.
January 
We start the year with the sad news that hospice hero and D-Day veteran Ray Mellors has died, age 94. Ray was a Day Therapy patient who was awarded the Legion D'Honneur – France's highest honour – at the hospice the year before.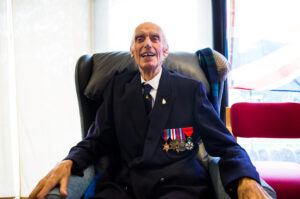 Our Healthcare Assistant Teresa has her head shaved for the hospice, raising £1.4K
Our supporter Annette signs up for the London Marathon in her father's memory. Here's her story.  
February
We roll out Hospice Night Support across the mid-Notts area, meaning it's now available across Mansfield, Ashfield, Newark & Sherwood and Rainworth.
Patient and supporter Sam Perkins plans one final triathlon to raise funds for the hospice and MND research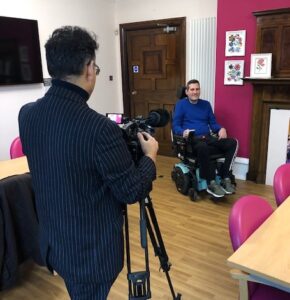 Central TV come to the hospice to meet Sam, film him having physio, and interview members of staff.
Our patient Elaine Buckley masters the ukulele thanks to help she's received at the hospice. Elaine was a keen guitarist before cancer affected use of her arm. Thanks to our physio Mel, massage therapist Matt and volunteer music teacher David, Elaine's now playing again!
We trial a scheme to teach patients' partners how to apply make up.  This gets national coverage.
March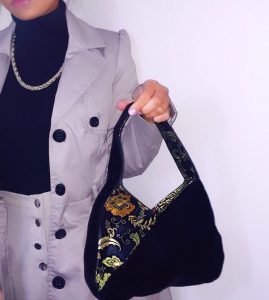 We launch a student fashion competition  to promote our shops and encourage sustainable fashion. Students are asked to style an outfit from items bought from our shops.
As Coronavirus levels increase across the country, the hospice starts to adapt its services, and temporarily closes its Day Therapy and sends out a message to supporters.
The UK goes into strict national lockdown. All non clinical hospice staff relocate to work from home. All ten shops shut but our services keep going.
April
We put out an urgent call for PPE as stocks run low across the nation. Lots of companies respond with offers of help. Nottingham Hackspace makes visors for us and is interviewed on BBC Radio 4.
We launch our Forget Us Not appeal – an urgent appeal for help to address predicted losses of £150,000 due to shop closures and event cancellations.  This appeal raised £60,000.
The Hospice Outreach and Discharge Support (HODS) service is launched to fast track patients out of hospital and prevent hospital admissions. We now provide 24-hour round-the-clock care in patients' homes.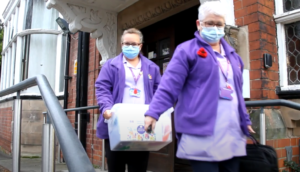 Our intervention brings Bruce home from hospital during lockdown to die peacefully at home with family around him. Here's his family's story. 
The hospice gets midlands-wide coverage on ITV Central
 May
We celebrate our wonderful nurses on International Nurses day with  a focus on new recruits including Felicity who joined the hospice straight from a Covid ward, and Sarah, who re-registered as a nurse to help the hospice during the pandemic. Read more here.
The hospice is approached to set up a dedicated helpline for anyone in Notts affected by grief during the pandemic. The service fast-tracks support to those in need, referring callers on to our own bereavement services or other organisations as appropriate. One of those we help is Stephen, who at the age of just 34 lost his wife to the virus. Here's Stephen's story.
Notts musicians put on the Big Night In a  Facebook Live concert to raise funds for the hospice. It's a fabulous evening of Jazz, Swing and accoustic sounds.
Supporters get behind the 2.6 challenge which brings in 5K for the hospice. Activities include a 3-generation fundraiser by the Streeter family, Lily and Jason's 24-hour gaming marathon, and lots of other creative ideas for fundraising during lockdown.
June
We follow our care team for a 24 hour period and publish hourly updates on social media. Our day in the life in care blog is shared nationally.
For Carers Week we interview Emma, who is the main carer for her husband Sam who at just 37 was diagnosed with Motor Neurone Disease. You can read Emma's story here. 
Volunteers week – we celebrate the contribution of our volunteers. A volunteer force has been set up to help HODS by interviewing patients and carers over the phone. Here's an interview with our volunteer Jenny.
We feature on BBC East Midlands Today TV news
Our shops reopen Covid-safe, complete with screens, hand sanitiser and social distancing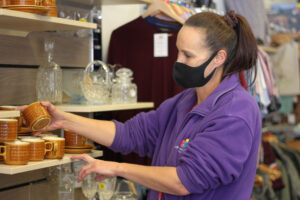 July
Our 40th birthday month! We couldn't party as we'd planned but we celebrated virtually and received lots of cards and messages from supporters. One of our patients even wrote a song for us.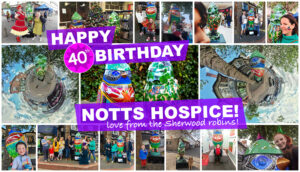 We also caught up with our founder member Bernard Brady and chatted about the early days. You can watch the video of his interview here. 
Our gardening volunteers are back at the hospice cutting back three months worth of weeds!
August
We team up with sister hospice Beaumond House to launch a joint appeal. The Forever Fund signed up new regular givers for both hospices.
The appeal is featured on BBC East Midlands Today TV
Patient Beverley Fairbanks publishes her first children's book to raise funds for the hospice despite battling the debilitating effects of progressive illness MND
September
Two runners tackle the virtual London Marathon for us – raising £4K
We're again featured on BBC East Midlands Today – this time an interview with Rowena and our supporter Sarah Jackson who runs swap and style events in aid of the hospice.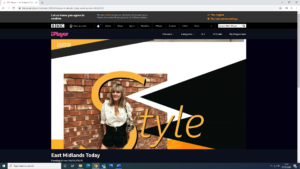 It's Second Hand September and our shops are thriving. 
October
During Dying Matters month we  focus on how we remember our loved ones and include interviews with some of the carers we've helped. Here's how Millie remembers her dad through music.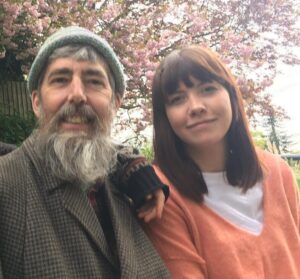 October is also Make a Will month, when supporters can make their will with participating solicitors in return for a donation to the hospice.
November
As the UK goes into a second national lockdown, our ten shops are required to shut once again.
The hospice puts out an urgent appeal for help as it launches its annual Light up a Life appeal  Our appeal is featured on BBC and ITV regional news programmes and in the national Heroes magazine.
We light up our tower for the first time this year in memory of Maxine's mum
Even though Sam's triathlon plans had to be put on hold due to the pandemic, he and his supporters have continued to raise money every way they can during the pandemic. They've  now hit the £40 K mark.
We're featured with Sam on BBC TV's Make a Difference slot.
December
We're on the telly again – this time as part of a region wide feature on how hospices have adapted to the pandemic. BBC East Midlands broadcasts the piece from our Mapperley shop.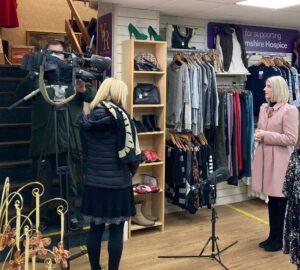 National Grief Awareness week focuses on how we help those who are grieving
Light up a Life is in full swing, our festive forget me not flowers are a hit with supporters and our concert featuring some acclaimed Notts musicians receives rave reviews.
Throughout the month, light up a Night sees our tower shine out in memory of loved ones
We take part in the Big Give match-funding appeal which raises £40K to fund palliative nurse for a year
Our supporter |Molly runs a marathon a week for us throughout the month, raising £1K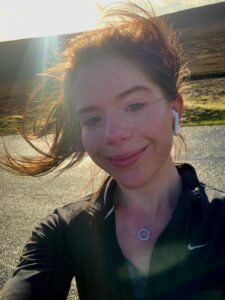 Hospice care continues round-the-clock at Christmas as our nurses and healthcare assistants help patients in their homes all through the festive season. Among them is Healthcare Assistant Leanne who understands from personal experience how important care at Christmas is. Here's what Leanne says about why she chooses to work at Christmas.
We finish the year with the fabulous news that Hospice Trustee Tracy Madge has been recognised in the New Years Honours. Tracy received the MEB for her services to healthcare during the pandemic. She rejoined the NHS when the virus took hold and has been instrumental in preparing the vaccine for roll-out across Nottinghamshire. Congratulations Tracy!
Looking forward to a new year of hope.
As we enter 2021 a new national lockdown brings us all new challenges. As the NHS face their biggest challenges yet, our teams continue working around the clock to provide end-of-life care in homes across Nottinghamshire, which keeps hospital beds free for Covid patients. As the rollout of the vaccine progresses, we are confident that together we can start to hope and to move towards a freer future and can welcome you again to our shops and to our hospice building.
#YearOfHope